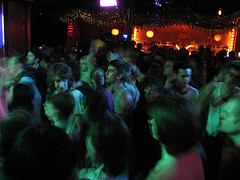 Happy shiny people packed into Chop Suey on Friday to catch German producer and DJ Boys Noize (Alexander Rihda) bring his electronica mixes to the Broken Disco dance floor.
I was eagerly anticipating the Boys Noize set and he didn't disappoint. What a blast out! He knows how to mix and work the dance floor with breaks and beats until it's a single mass of movement and sweat. Uber fun.
Boys Noize is getting lots of buzz since his debut Oi, Oi, Oi release in September 2007, which followed several well-regarded remixed releases of artists including Para One, Tiga, Feist, and Justice. He is confirmed for several high-profile festivals, including Coachella in Indio, CA and Sonar in Barcelona.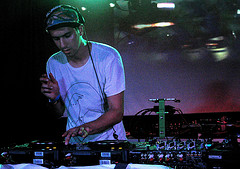 Dance floor peeps: see you all again soon at the Justice show! (March 24th at Showbox Sodo.)