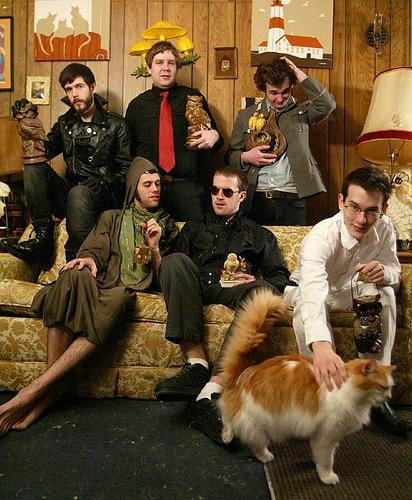 I miss Math & Physics Club. I know the band has good reason for not playing out much lately (2 of the 5 members just became dads, and one with twins!), but when the sun peeks through the clouds and the tulips poke up throw the direct, I start to crave the brainy, nostaglic-laced, dulcet sounds of melodic indie-pop that Math & Physics Club have mastered.
Then happily this morning I disccovered Brown Recluse Sings (thanks to DJ Rachel on KEXP for that one), a Philly-based indie-pop-psych band who reminded me astonishingly of Math & Physics Club, to great effect. After a smidge of MySpace research, I was beyond intrigued by the band, in no small part because I'm pretty sure I had that sofa when I was in college! I knew it was a keeper.
Brown Recluse Sings more than satisfied my sunshine-induced hankering for sparkling pop perfection with the four tracks they have posted to MySpace ("Mystifying Oracle" was a particular favorite). In addition to Math & Physics Club, I gather they've been compared quite a bit to Page France (both are outstanding RIYL references as far as I'm concerned, and both are certainly apt in this case).
The band self-describes their sound as:
"an outdoor conversation between clara rockmore, egon schiele, anais nin, alfred hitchcock, joan retallack, king tubby, rogerio duprat, bell hooks, rod argent, gal costa, marshall mcluhan, jean-luc godard, anne kaplan, and philip larkin."
Um, yeah… that! I hear loads of instrumentation, including wacky keys and horns and perhaps even a harp? It's a strolling, joyous, opening-of-new-growth kind of musical adventure. Seriously, go have a listen. Add them as your friends. Carve your initials together in the trunk of that tree. Tell them three imaginary girls sent ya!