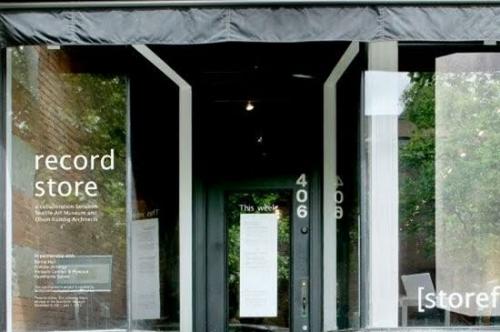 Flatstock at the Armory
11am-8pm, all three days
I say this EVERY year, but you absolutely have to take some time out of your music-watchin' day to browse the aisles at Flatstock and see tons of amazing poster art. Seriously. Go. I'm not kidding.
Record Store
Visual Arts Exhibits at the Seattle Center Pavilion
11am-8pm, all three days
Ok, it's not really a "store" in that you can't buy the vinyl contained within, but! But but but. They put together a HUGE collection of records that you can browse through and choose to play—either for everyone inside, or just for yourself—and generally just marvel over how awesome records still are. Step inside this exhibit for sweet listening party bliss.
Read It and Weep (A Celebration of Nicolas Cage)
The Vera Project
Saturday 1:15pm-2:15pm
Three podcast guys dissect and review some of the worst of the worst Nic Cage movies, including Wicker Man, Ghost Rider and … CITY OF ANGELS. Dude. This is going to be hilarious!
How Did This Get Made? With Paul Scheer, Jason Mantzoukas & June Raphael
Bagley Wright Theatre
Saturday & Sunday 2:30pm-3:30pm
More podcast actor guys (and girl!) talk about the worst. movies. ever. Including Superman 3 and The Room. I love things that are SO bad, they're good, so I'm interested in hearing other people talk about them. Also, all three actors have been in some pretty terrible movies themselves, so I wonder if they'll mention any of them …
Gabe and Jenny, Fred Armisen
Intiman Theatre
Sunday 8pm-9pm
I'm not that familiar with Gabe Liedman, but I LOVE LOVE LOVE Jenny Slate (Marcel!!!), and am pretty enamored with Fred Armisen too. I'm assuming this will just be a bunch of improv, since the description isn't really clear. Whatevs! It'll be funny, I'm sure.
The Benson Interruption
Intiman Theatre
Monday, 8pm-9pm
Doug Benson seems to be everywhere at Bumbershoot this year, but this thing where he invites his friends to come up on stage and perform, and then just interrupts them whenever seems like it would be really cool. I tried to make it to the last one he did, but the line was about 200 people long. Booooo. Mabye I'll get in this year? (fingers crossed)