Whoa. Three days of Bumbershoot and one day afterwards got lost there. So here I am, dazed but plowing ahead like Pee Wee on his bike during the Big Adventure, my mind swimming with reflections of all the pop culture madness I grokked and gloamed in for Labor Day weekend. Here's the lights, high and low:
Saturday, September 1st 2012:
First up saw Nude Pop near the press area because that was pretty easy to do, with them playing at noon at new stage The Promenade near the press area. I'm sure you've all heard the gripey-gripies already about new stages and alternate names for previously monikered stages that still somehow have the same name when the Seattle Center is not being a Bumbershoot. It made for a lot of hilarity with good-humored cynical assholes and cranky fussypants behavior from frazzled, scurrying-to-shows cynical assholes. The Promenade never existed before this year, and I like it: A long cool semi-open air venue that just seemed more comfortable, maybe the most comfortable, of 'em all. The benches on the sides were a nice touch; which does bring up the fact that most of the smaller music stages don't have any actual seating or areas of real comfort. Which would partly explain why a lot of people do more comedy and literary events. (There were a couple of things at the comfy Words & Ideas Stage that seemed suspiciously packed out for the subject matter involved, just saying.) Nude Pop though! They're weird! They're called psychedelic but strangely repeating odd indie rock riffs and adding gangly electronics isn't exactly trance-drone. BUT: There's a certain suave quiver in the singer's voice, and their sound is as mangled archly as a social life spent in Spokane, where they're from. I would encourage cutting song lengths and pretending like power emo never happened anywhere near you guys. There's some sweet stuff at the center for sure.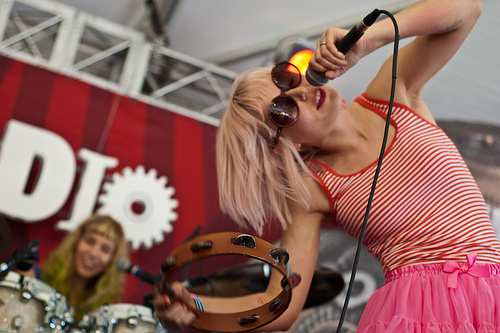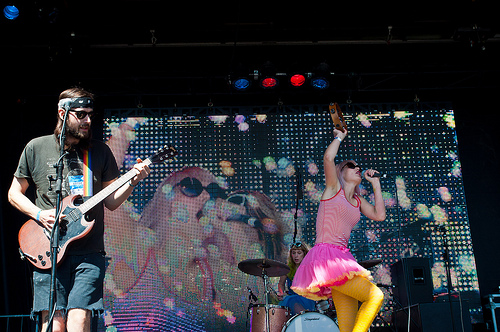 TacocaT
TacocaT was playing the Sub Pop stage, and I heard a bunch of songs I hadn't heard before, because they got a full hour set, and needed to fill it up with everything they had in the oeuvre. I loved seeing everyone get so excited for them; it reminded me what Tomten told me about their performance at the same day/time of the festival a year before: it's not too bad to have a chance to win over so many new fans as all ages pour through the gates fresh and happy. This was not only an awesome opportunity for TacocaT to make many fervent new fans, it also gave me a chance to sample all the TacocaT song-writing eras, and I realized how much more wide-ranging their sound is than I thought. Quite a treat, and I'm eager to hear more new stuff now.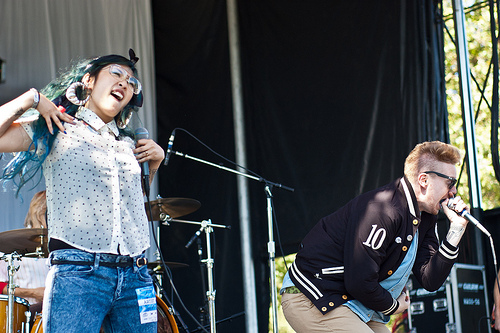 Don't Talk to the Cops
Don't Talk To The Cops was on the Fisher Green KEXP 90.3 City Arts Stage, and ohmygodohmygodohmygod. Blunt smoke blown around freely, bouncing booties, boys and girls and all races happily mingling, buy me drinks buy me drinks buy me drinks. The addition of Trent Moorman on drums seems a skin-tight supernatural fit to a sleazy and swanky swapping of skronk-spit. You feel the same giddy warmth as you did for the Saturday Knights (which Trent was once a part of too) and the involvement of djblesOne's comrades in B-Boy dancing up on stage gives it full community effect. Easily Seattle's best live band, and they just added drums! Emecks is the sweetest MC evah, she sparks a party and turns my heart into fireworks. Lar wrangles his laptop as if he was Mike Watt as a cyberpunk, but back to bles: No B-Boy has his brilliantly cartoonish and yet still utterly charismatic moves. Great seeing his son at the fest too!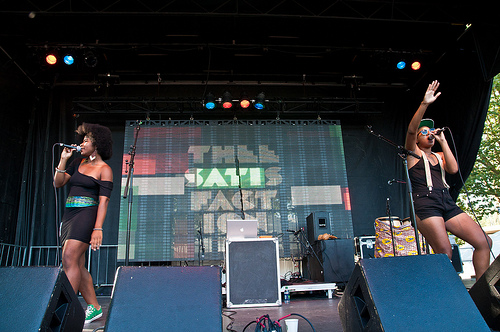 THEESatisfaction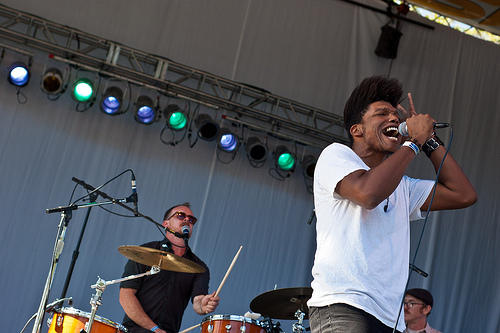 JC Brooks and the Uptown Sound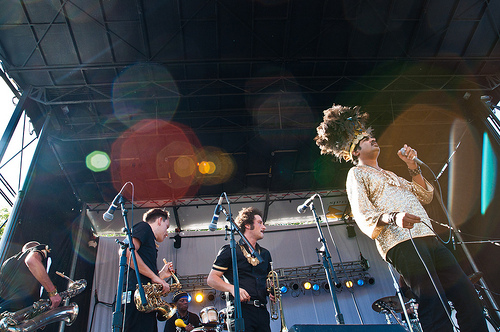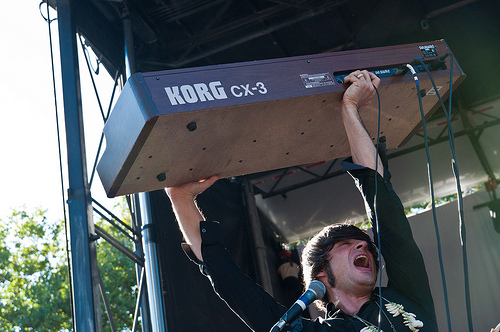 King Khan and the Shrines
This makes it kind of hard for me, honestly, to review a lot more music: I peaked personally about an hour into the three days of the festival with DtttC. But THEE Satisfaction later the same afternoon, with surprise love from Shabazz Palaces, made the day a solid gold soul-hop (Sub Pop) dream. This is the art and the fun and the family that is revolving Seattle right now, and everyone was feeling it. Between DtttC and TS/SP, there was JC Brooks & The Uptown Sound, a spot-on the one flash funk n'blues fire, and the aural-BBQ essential King Khan & The Shrines, the leader of which seemed to be tripping more'n any of us.
I spent the rest of the first day watching comedy at the Bagley Wright Seattle Magazine Theatre: Live podcast How Did This Get Made? covered Super Mario Bros., a filmic travesty that Bob Hoskins probably doesn't remember making. I enjoy this podcast, which has Paul Scheer and Jason Mantzoukas with guests (usually other comedians) making fun of floppy film failures. I missed them doing Roadhouse with Patrick Swayze the next day, which I'm really anxious to hear, because that is some awesome substrate to grow jokes from. But I did catch this show again on Monday, when they handled Cobra, and it was so much better than their take on Super Mario Bros., because among other delights guest Brian Posehn can do a killer mocking of Sylvester Stallone. Three and a half stars for the Saturday version, a full five (or whatever rating scale Leonard Matlin uses) for the hot-sauce hilarity of their take on Cobra.
Speaking of film critic Leonard Maltin, his reviews are used as part of the games played on Doug Loves Movies, featuring scruffy slacker Doug Benson and his own revolving cast of comedy cronies. I'm a recent fan of comedy podcasts, but it seems like Doug's is unique by combining stange little word jumble games with more than usual audience interaction. Some of the humor at this live podcast taping was a bit too easy (Brian Posehn was at this one too, and Doug's fat jokes in his direction seemed a bit banal) but it was a monster bong-load of fun regardless.
I ended the comedy portion of the first B'shoot evening with Paul F. Tompkins and friends, in which the thoughtful, genteel, Everyman comic hosting the show had to deal with one of the most amorphous hecklers I've ever heard. Completely blitzed out of his mind at 6 p.m., Paul entangled with him gently and made funny of it, till he realized (before many of us did), that this guy was just not going to shut up and there was a show to do. So, after smashing a couple of pairs of sunglasses in jest the idiot threw up on stage, he offered to buy him out to shut him up. It was a gracious twist and it worked; it also confirmed what I love about Tompkins: His humor skills are fed by love for making people happy, and coyly entertaining us without harming anyone. It's not the usual caustic alt-comedian's style, but its sincerity makes it all the more special. I do admit however that I repeated this story by adding that sometimes his material seems a little facile to me; that opinion was changed on Monday night when he did Doug Loves Movies as a character named Cake Boss, a sort of Super Mario of Bakers type, which was so brilliantly nuanced and impeccably delineated in his persona-personality that I was totally blown away. My biggest discovery of Bumbershoot this year: The tough-ass, terrifically engaging NYC humor of James Adomian, who in my opinion seemed underappreciated but safe, passive aggressive Seattleites and tourist-filled audiences. His shit is confessional but not whiny, super smart but not nerdy, has no gimmicks and has tons of promise. His secret weapon is a devastating Jesse Ventura conspiracy theorist impression he whipped out during the fest; it hammers the point of the less intelligent-overly suspicious tea-baggers into brutal art.
Sunday, September 2, 2012:
Music sun fun time. The dusty romance of Gold Leaves, the sonorous pining of Niki & The Dove, the driving joys and wit of Young Evils, the basement bomp of Mudhoney, and the sexy soul saving immortality of loving Wanda Jackson with all your heart.
Monday, September 3, 2012: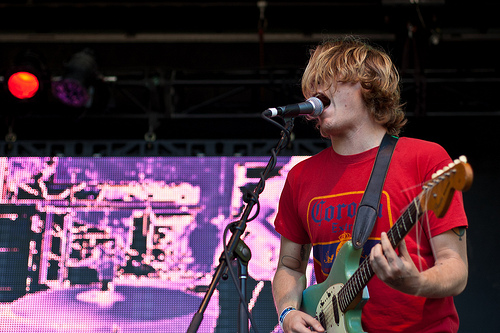 Ty Segall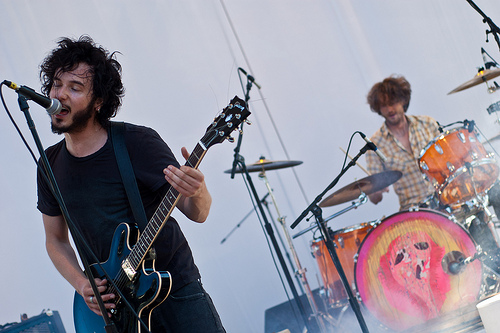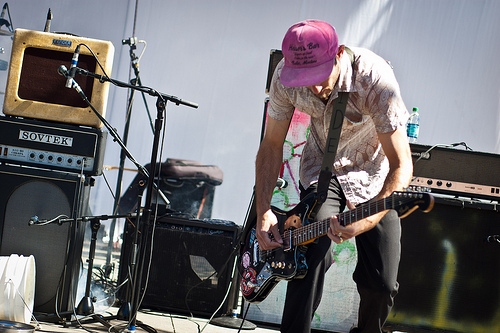 Reignwolf
12:00 p.m. at The Promenade again, with Ghosts I've Met, a band of American Gothic folk-rockers, a somewhat fading form but had a nicely fleshed out sound.
OK, I'll come clean now and admit that I spent most of the rest of the final day of Bumbershoot at the comedy stages. The first and last one I hit was the one I usually spent the most time at each year, the Vera Stage, with superb sound from Jeffrey McNulty (Android Hero) in comfy, dark all ages venues closeness. These are usually the up and comer local shows and young comedians from other areas, but all of the formats can be very fluid.
The first set I caught at the Vera was a real hight point for me for the whole festival: The early afternoon podcast taping of Too Beautiful To Live, featuring Luke Burbank, which started on KIRO and has won an award for best radio show. This cabaret of comedy, music, and cooking tips was just fucking excellent. Local pop-artist, picador-writer, and poetic saboteur Derek Erdman did a bit as "the Revenge Rapper," and got the audience really excited and deftly delivered a spontaneous and very quick-witted OG MC ("My name is Maurice and I'm here to say …") rant against someone who was jumping chairs to get the best seat in the audience. His clothing style was exquisite (I thought the ladies' dress he was wearing was an 80s Cameo-type outfit at first, but no, it was just a slightly cosmic looking ladies' dress), his pacing was keen, and his twisting the event into wishing Kelly O of The Stranger a happy birthday a great way to engage the audience and help bring love. Awww! Then The Pains of Being Pure At Heart played a stripped down song and then later on another, and they sound as wonderful with acoustic instruments borrowed from Trading Musician as they do filling a large venue with deliciously syrupy melancholic dizzy rock. Also, the Chuck Norris announcement ("if Obama gets elected, we're entering a 1,000 years of darkness!!!") was made ourageous sport of (mostly by not even adding to it, but playing it and then describing what was just said again), and — whiskey cupcakes! Damn, very satisfying.
This does fair reader little good, but I went back to How Did This Get Made? and Doug Benson's show out of knowledge they were going to be excellent — and a raging hangover's need for comforting comedy. And that settled my nerves enough to face the scrambling hordes Skrillex-bound, shorn, and howling as I departed Bumbershoot 2012.
{All photos courtesy of Brady Harvey.}