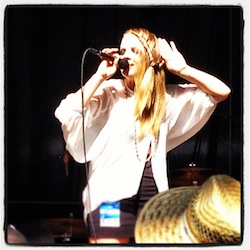 This is where I do that old person thing and tell all you kids about how I used to go to Bumbershoot every year on my birthday and wander around all four days, and discover bands, and nerd out and love, love, love it. You know, back when it was free, and then like, $5 a day, or $15 for the whole weekend.
And then it just got to be too much—standing shoulder-to-shoulder with strangers, crushing through crowds trying to make my way between stages, the damn stupid "we must empty out the entire Key Arena" rule between shows, so you couldn't even camp out for two bands in a row. Gawd. Waiting in line for 2 hours to get into Memorial Stadium somehow became less fun too…and my tolerance for bullshit declined sharply after I edged over 35.
But! After not going for many years, I have braved it again for the last three, and honestly it's growing on me again. Even though they cut it down to 3 days instead of 4, the festival seems mellower overall. Sure there are still a lot of people, but it's not so many that I can't deal with it, more or less. And it made me remember what I love about Bumbershoot the most: a combination of seeing old favorites play, and wandering around and a listening to bands that I might not have heard of, or have been intrigued by. And there's so much other stuff besides the music to love too.
And so, Sunday at Bumbershoot was pretty much the best Bumbershoot day ever, because of the following things:
1:30pm: Katie Kate kicks the newly installed stage at The Promenade's ass. Like, all the way across the entire Seattle Center. This woman knows how to work a crowd, and work it she did—there were more people dancing to Katie than I've ever seen in Seattle. The guy in front of me was popping and locking so much I thought he might implode. At the height of my enjoyment, she threw out a "Read My Motherfucking Tote Bag" …tote bag, and my boyfriend caught it. HAPPY EARLY BIRTHDAY TO ME. And then she nearly killed me by covering Kate Bush "Running Up That Hill." What. I love her. So so so much.
2:45pm: Skillet Fried Chicken Sammich. 'nuff said.
3:10pm: We breeze over to Flatstock (very wise of them to put it in the Center House Armory … I will never get used to that … this year) to see some poster art AND Ms. Jenny George. Hugs are good.
3:30pm: Marco Collins interviews former Hole guitarist and songwriter Eric Erlandson about his new book, Letters to Kurt. Contrary to my ill-informed belief, they're not actual letters written to Kurt Cobain, but a jumble of painfully intense beautiful prose about suicide and drugs and rock and roll and failing and being the third wheel to a crazy relationship that Eric reads with so much emotion I barely make it outta there without bawling my face off. Erlandson ends this reading with an electric banjo and some "… fucked-up Appalachian music, because Hole was known for it's Appalachian vibe." I enjoy it, and I want to read the book—someday. When I'm more emotionally prepared.
4:45pm: We brave the "deep fried" truck, but I chicken out on getting the double stuff Oreos at the last minute, and have a bite of Jonathan's deep fried Snickers instead. It's…intense. I'm glad I didn't try to eat a whole one by myself. While enjoying the grease, we talk to some awesome friends and listen to Fruit Bats play a few songs, since the stage is right across from us. Then, back to The Armory for some coffee & coke (not together. gross).
6:00pm: Over to the beer garden on Fisher Green to see The Dirtbombs—in which my boyfriend made an excellent call. Even the extreme lime-iness of the "Lime-A-Rita" I paid $5 bucks for coupled with the Frat party happening to the right of us ("Let's get really excited about making a plastic cup tower super tall, you guys! Don't let it fall over! RADDDD! *hic* ") couldn't trash my love for these guys (and girl). Some lovely rock and roll that ended with a drummer crouching on top of the second drummer's kit, with the lead singer/guitarist picking up the sticks and helping himself to some beats to finish it out. AWESOME.
6:50pm: We attempt to get close to Mudhoney for nostalgia's sake, but the Center has filled up a lot since the afternoon, and it's apparent there's no way we're making it into either the beer garden, or anywhere close to the stage. After sitting down by the fountain for a few songs, I get up and try to peer between Bud Light umbrellas and people's hats to see Mark Arm and company, but we could barely see anything. We could HEAR it, though, and that's what's important. Halfway through, I hit a wall of crowd fatigue coupled with smoke overexposure (being allergic to smoke SUCKS so hard), and we decided to call it a day.
It was lovely all around, but I don't know how you people who go every day of the festival DO IT. You are made of much hardier stuff than I am, for sure. 🙂
What'd you guys see this year? I wanna hear about your favorites!