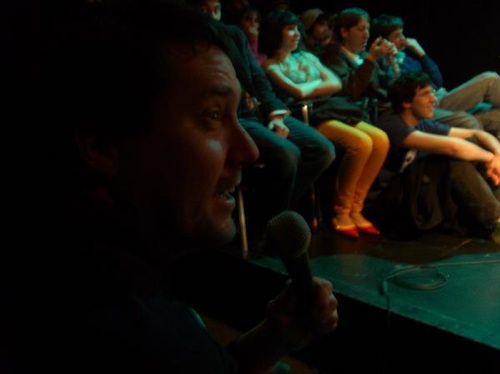 I'm not really convinced that I need to rent Super High Me because I don't think I'll find it all that funny. I'm also not a huge fan of stand-up, but let me tell you what does sounds like it would elicit more than a few laughs from my obviously cold, hard, no-sense-of-humor self:
Some guy who puts his friends on stage to perform their own comedy routine, and then interrupts them whenever he damn well feels like it.
From Benson's MySpace page:
It's a show where comedian Doug Benson (SUPER HIGH ME, The Marijuana-logues, VH1's Best Week Ever, Last Comic Standing) invites his fancy, big-name, professional stand-up pals to the stage, but then interrupts whenever he feels like it.
Anyway, this Benson guy is apparently popular, as he's on VH1's Best Week Ever and NBC's Last Comic Standing. He also put something called The Marijuana-logues which scares me a little bit.
Long story short (too late): if you enjoy these things too, you should go see his show. The Benson Interruption will happen on the South Comedy Stage all three days at Bumbershoot, from 6:15-7:15pm.
{Photo taken from TBI MySpace page}