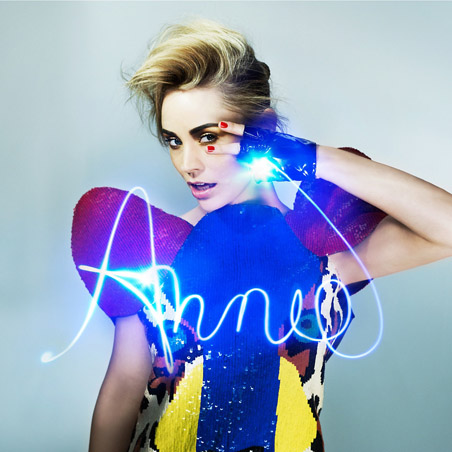 Dear lord, this is exciting.
Annie, the Norwegian princess of perfect pop, is FINALLY going to release her second album, Don't Stop, in November. I mentioned here that it was supposed to be released sometime last year (I blogged about it in early May of 2008) but that was a false start with Annie leaving Island Records and this looks like it's the real thing. Quoting the press release extensively:
Annie calls her sophomore album, Don't Stop, "pop with strange edges"; it moves with twists and eccentricities so surprising that the tunes persistently demand a double take. Both immediately listenable and utterly beguiling, this "pop with strange edges" is mainstream and underground, all at once. Sometimes expressive, sometimes funny, but always totally fresh and utterly human, Annie's new album, Don't Stop, puts on something of a show. Recorded over the last three years, Don't Stop will pull off the tricky task of pleasing Annie's existing fans, while, just maybe, making her a bit of a household name.
Complementing Anne Lilia Berge Strand's pick 'n' mix, genre-hopping pincer movement are an array of handpicked associates: Don't Stop reunites Annie with Timo Kaukolampi and Richard X – collaborators from the first album, Anniemal – and introduces a host of new friends like Paul Epworth (known for his work with Bloc Party, Primal Scream, The Rapture, Florence and the Machine), Brian Higgins (Xenomania) and Franz Ferdinand's Alex Kapranos. It's a twelve-course feast for the modern musical connoisseur — a frenzied, but undeniably solid proposition, an effortless and organic blend with Annie center stage.
Don't Stop's "My Love Is Better," comes with a deliciously angular guitar hook courtesy of Alex Kapranos, all thrown into a melting pot of blazing pop beats, sing-along choruses and hilariously competitive couplets. Though the track fizzes with Xenomania's trademarked everything-but-the-kitchen-sink sonic style, one of the production team's surprises on this album is an object lesson in well-judged sparseness. Continuing one of Annie's recurring lyrical themes ("that love and horrible things don't always come together," she laughs, "but they seem to for me") is "Heaven & Hell". It's a breezy number which reflects Annie's developing passion for the best bits of French pop – Brigitte Fontaine and Serge Gainsbourg, for example – and is complemented on the album by "Marie Cherie". "Bad Times" is one of Annie's autobiographical moments and another of the album's "love and horrible things" songs, evoking the glacial, hypnotic power of "Heartbeat". Don't Stop also boasts Annie's first true four-to-the-floor anthem leading to dancefloor abandon, the Richard X-produced club banger "Songs Remind Me Of You". And let's not forget the enjoyably ridiculous, "The Breakfast Song".
The tracklist is:
01. Hey Annie
02. My Love Is Better
03. Bad Times
04. Don't Stop
05. I Don't Like Your Band
06. Songs Remind Me Of You
07. Marie Cherie
08. Take You Home
09. The Breakfast Song
10. Loco
11. When The Night
12. Heaven And Hell
What is most interesting to me is not so much what is on the album, but what isn't. The single "I Know UR Girlfriend Hates Me" (my favorite song of 2008), the cover of Stacey Q's "Two of Hearts" and another single, "Anthonio" all failed to make the cut.
The date I can finally let go of this breath will be November 17 (October 19 in the UK) when Don't Stop will (?) be released on the Norwegian label Smalltown Supersound.
Here's one song, "Loco", that did make the album:
[video:http://www.youtube.com/watch?v=EKwxiC_pi2k]