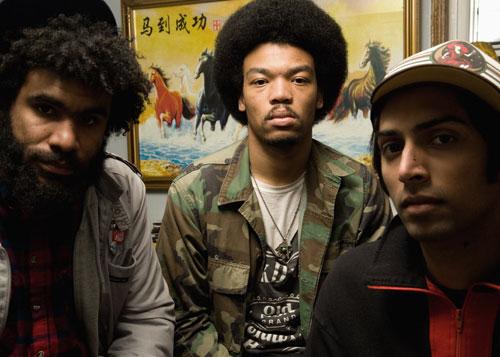 Equal parts Del tha Funkee Homosapien, Slum Village, and Tribe Called Quest with a little Outkast on the side for dipping, Champagne Champagne will be getting the crowd warm for its form on the Bumbershoot stage.
Formed in August of 2007, Mark Gajadhar (aka DJ Gajamagic), Pearl Dragon, and Sir Thomas Grey (aka the Commish) come together like a super-cool, giant afroed, beardy Snap,Crackle, and Pop to bring flourishes of funk, emo, and 80's electo/new wave to Seattle hip hop. In a seemingly unending quest to duck the label of "hipster-hop," Champagne Champagne bring much more than a slick sound and a cool image to the mike. "The only goal for our group is to make music that makes us feel good," says DJ Gajamagic. They get results; Champagne Champagne makes feel good music- it's surprisingly diverse, the lyrics are incredibly clever, and even if you are not a hip hop fan, you might just find yourself bobbing your head and shaking your butt ever so slightly. They are infectiously catchy.
Champagne Champagne is an interesting outlier to the hip hop genre- they are not about Benzoes, bitches, and blow; they are not necessarily committed to putting out a PC message either. They don't have a gimmick, and they aren't a caricature or a parody of a hip hop act. Like Cyndi Lauper, they are simply out to have fun. The playfulness and freshness of their presence on stage, along with tight lyrics and danceable beats make them easy to love and makes fans eager to watch them.
Their presence isn't like that of their saggy pantsed crotch grabbing contemporaries. They have swagger, but it's not intended to be menacing or intimidating (which is not to say that that is uncool- Ice Cube has some of the best swagger of any rapper, anywhere). Theirs is a much happier sort. Their local shows occasionally explode into ecstatic mayhem onstage, with half the audience joining them on for an impromptu dance party. Sir Thomas Grey successfully won the 8/13/09 "Beard Off" against Mad Rad member Terry Radjaw, shaving the loser himself after a 1-on-1 basketball match. They have a song about how a girl is as fine as Molly Ringwald! These guys aren't your average rappers, and it's incredibly refreshing to see a new take on how hip hop can be done, how it can look, and how there's no "right way" to rap.
For a little taste of how they do, check out their MySpace page.
Champagne Champagne takes the stage on Monday, September 7th, at the Sky Church at 4:45.
To see what kind of party you're in for, check out the video for "Pop Rocks and Soda" from the 2008 Capitol Hill Block Party.
[video:http://www.youtube.com/watch?v=H8MinwrwpmM]