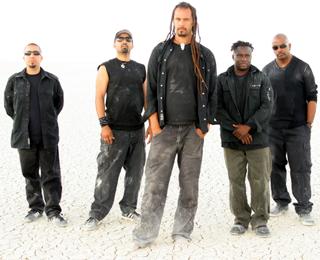 "The truth is that we need everybody. We need the ideas of the grass roots. We need the resources of the corporate world. We need the cooperation of the government. And we need the intelligence of everyday people with their street wisdom. We need everybody, so that's who I play music for- everybody." – Michael Franti
The best way to describe the music of Michael Franti and Spearhead is organic. They have a sound that feels like it comes from the ground and courses its way through your legs to compel you to dance. They make music meant to be heard outside, under the stars, and amongst an eclectic mix of people. Bumbershoot will be a perfect venue to see them at their very best.
San Francisco-based lead singer Franti is a well-known musician and poet and uses both roles to further his message of unity, love, justice and respect for everyone in the world. Spearhead uses aspects of reggae, soul, hip hop, jazz, punk, and spoken word to put a soundtrack to it. Franti is a consummate showman; he sings, he dances, he shares his poetry, and he is incredibly interactive with the crowd. All of it is very intimate- despite having an audience of 100 or 100,000, Franti ensures every person in it feels connected to him and eachother. He is a brilliant storyteller, and his stage banter frames each song beautifully. His voice is the audio equivalent of a warm bubblebath, and its sensuous timbre, accompanied with Spearhead's superb instrumentation makes for a luxurious musical experience.
Franti and Spearhead are touring on their new album, All Rebel Rockers, which was produced by recording superstars Sly and Robbie. Track samples are available on their MySpace page, along with further information about Spearhead, and a fascinating bio. If you're into music for making revolution, making babies, or making your chance of passing a UA decrease, this is a must-see band.
Spearhead will be performing Sunday, September 6, from 7:15-8:15 on the Samsung Mobile stage.
Check out the video for "Say Hey"- if it doesn't make you bump your rump, then listen to on repeat til it does. Evenutally, you'll surrender.
[video:http://www.youtube.com/watch?v=eoaTl7IcFs8]