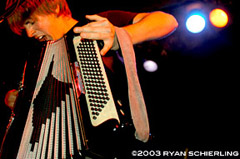 I am trying to come up with a witty water sign blip or "jumping from the river to the water" thing but my mind is blank. Regardless of the delivery of the news, the end result remains the same. One of our favorite Okkervil River band members (ok, we love them all), Jonathan Meiburg, is leaving OR to focus on his band Shearwater. Sure we don't blame him, since SW is probably taking up a lot more time what with all the critical acclaim and heavy tour schedule, but tis still sad. He can really make the Okkervil River keyboard parts scream with catchy hooks and wonderful growls. And boy can dude play the accordian!
Here's the word from the label's mouth:
Jonathan Meiburg, frontman for Shearwater, has announced that he is leaving Okkervil River to focus exclusively on Shearwater.  Meiburg says the split is "completely amicable", and that Shearwater has grown to the point that it excludes his further participation in Okkervil.  "This is just a logical extension of the way things have been going since 'Palo Santo'", Meiburg adds.  "Shearwater's increasingly demanding schedule has meant that I've performed with Okkervil less and less over the past two years, and with 'Rook' coming out in June, we all felt that it would be best if I completely disengaged from Okkervil rather than stretch myself too thin."
 
– Shearwater's new album, Rook, arrives June 3 on Matador.

– Listen to the first MP3 from the album.

– The band is currently on tour with Clinic (dates). They'll be in Seattle on Friday!)

– See Jonathan in the Falkland Islands here.