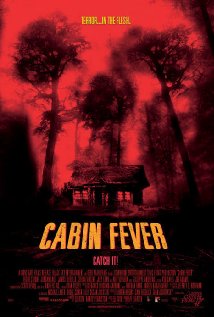 It's ALL HAPPENING!
To complement their Can't Look Away: The Lure of Horror Film exhibit, the EMP has put together a special event of splatterrific proportions – a screening of my favorite Eli Roth film, Cabin Fever, complete with a Q&A involving the lead, Rider Strong (I guess some of y'all worshipped the guy with teen idol fanaticism when he was on Boy Meets World – a show which I actually never watched, but I admit: he is kinda dreamy!) on Friday, February 3.
Anyway! Cabin Fever is full of awesome icky goodness involving a bunch of college friends who hole up in a woodsy cabin, run into a dying guy who's bleeding out of every orifice, and end up contracting a vicious flesh-eating disease. EWWWWWW. The amount of blood, guts, and gore is extremely impressive, and I heart the crap out of the humor in this thing. Tickets are only $10 ($7 for EMP members), and it probably goes without saying, but this R film is not for the kiddos!
Buy your tix now!!! The JBL Theater is an excellent venue for drooling over appreciating guest speakers up close and personal.
Cabin Fever Screening and Q&A with Rider Strong
EMP JBL Theater, 325 5th Ave N
Friday, February 3, doors @7:30pm, film @8pm
Tickets: $10 ($7 EMP Members)