The final day of Block Party was filled with friends, furious note taking, and glorious Seattle sunsets. Here is how Brady and I closed out CHBP 2017.
Highlights:
Usually going down to Barboza Basement (™) means a respite from the heat, but not when The White Tears & Pearl Dragon is Dead are on the stage. Then the room is blazing from the white hot fire they rain down from the stage.
As they began the first song, we were asked to get closer together. "Touch," they commanded. "Let's be human for 30 minutes." Living the message he was sharing, Pearl Dragon moved through the crowd performing from within us. His charismatic and raw performance made me put down my pen (iPhone) and just be there as a human with him.
The group's rallying cry is that we are all going to die, so let's celebrate together. Yet with Pearl Dragon's recent rebirth, it's easy to believe that if anyone will defy the inevitable end, it's them.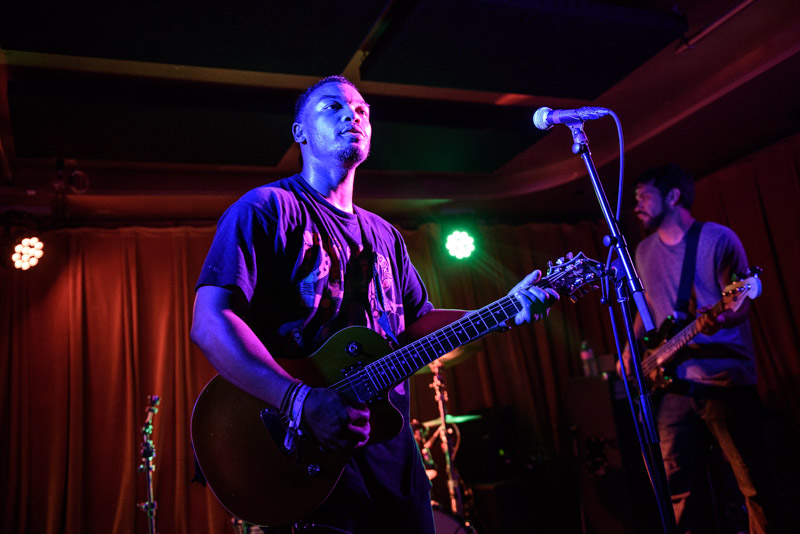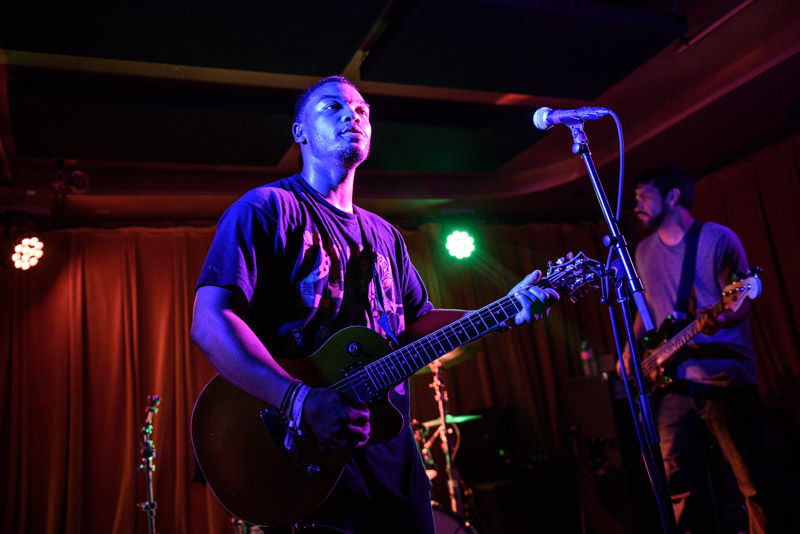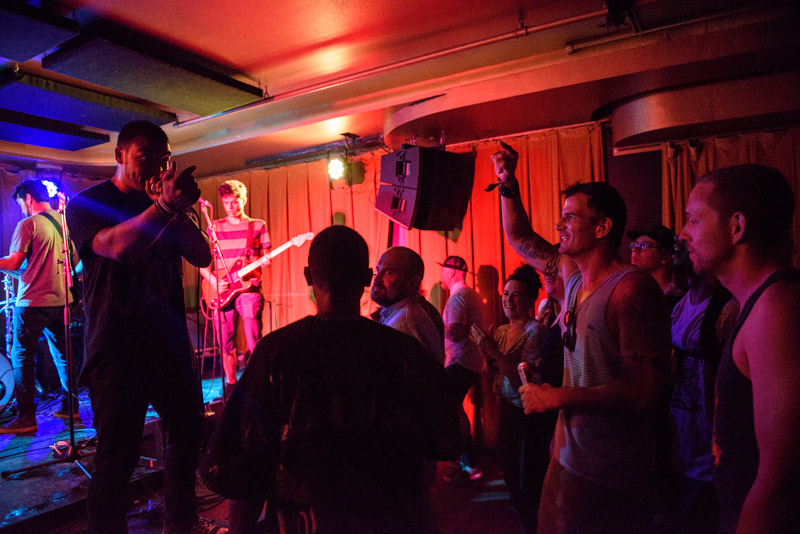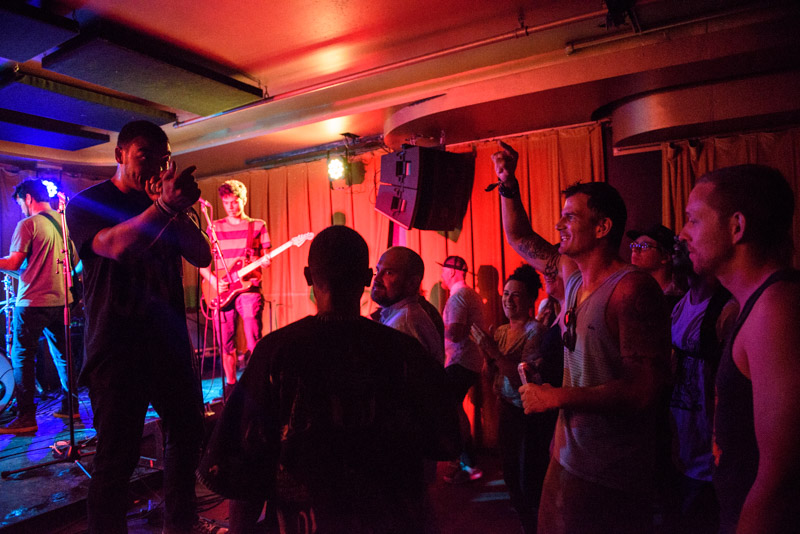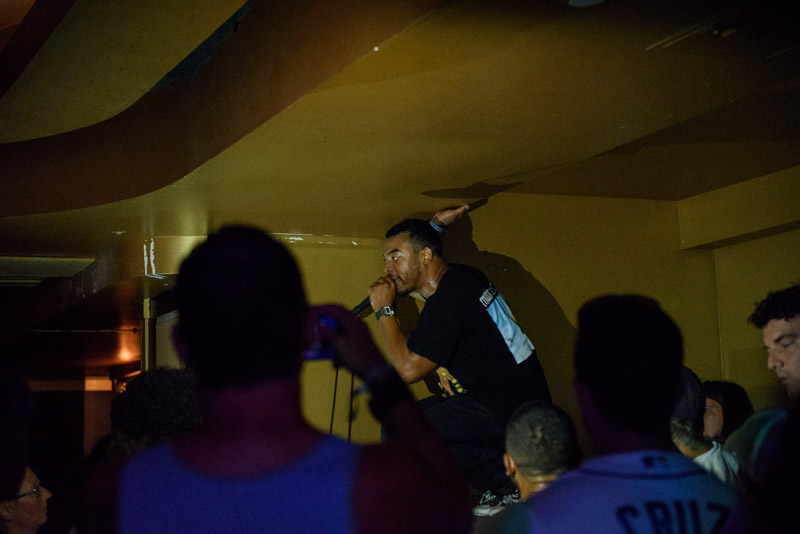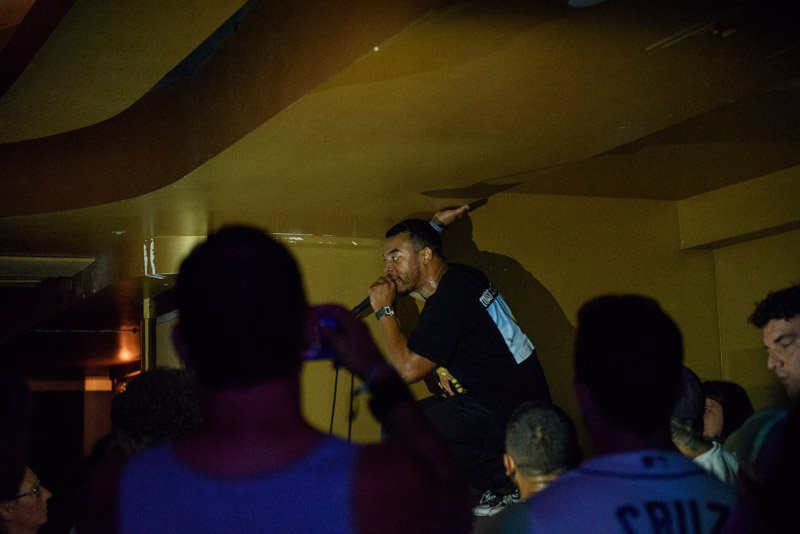 "Do you want the truth? Are you a masochist? I fantasized about your death. About lots of things that haven't happened yet."
One of my favorite things about Year of Death is that they have fully embraced the darkness. And Seattle loves them for it. The band began their set to a packed house ready for a vampire dance party. Alicia Amiri's alto vocals smoothed through the controlled chaos of electronic beats while additional soundscape came from a weird theremin-like instrument that made the player look like a wizard casting a particularly nasty spell.
"Progress happens one funeral at a time."
"Jeff Sessions," Amiri said, "you're next."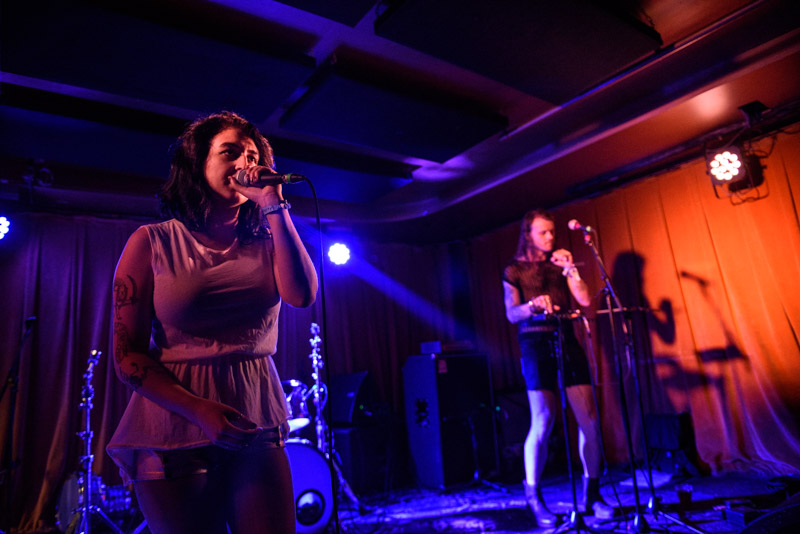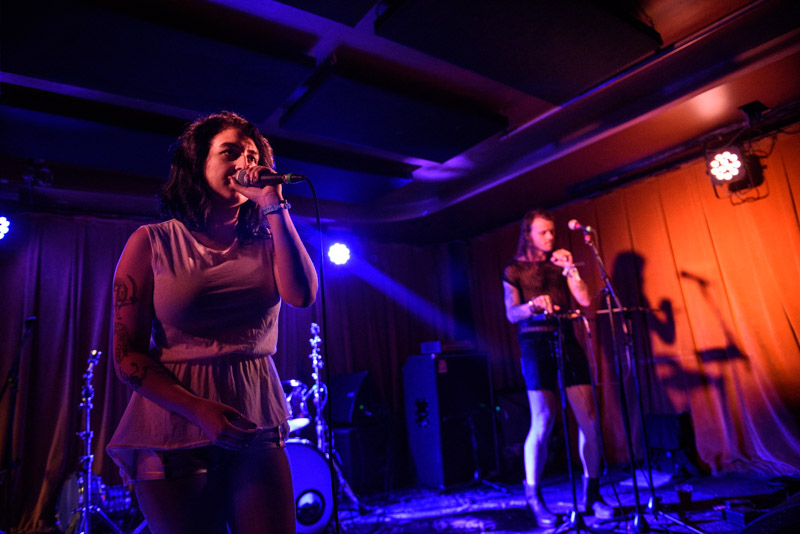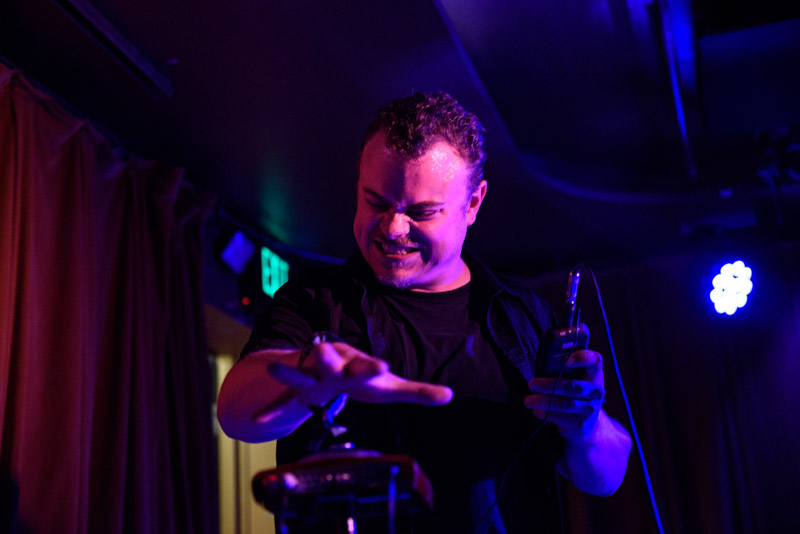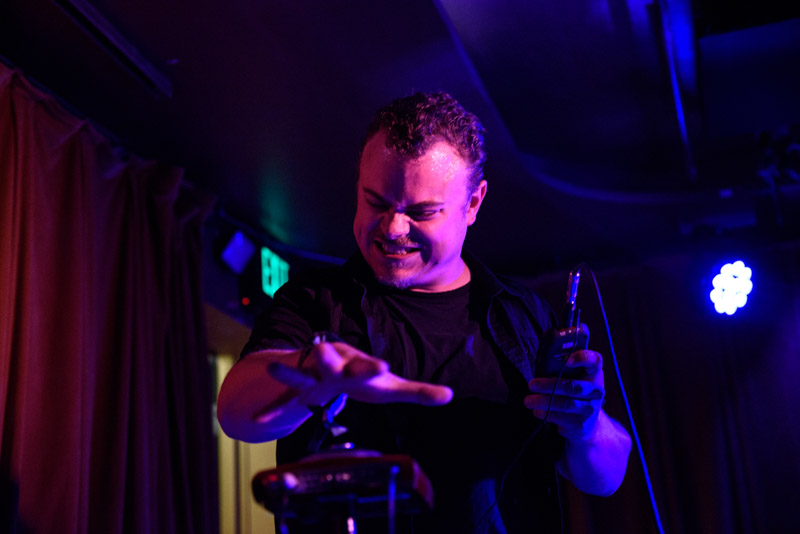 It's important to know that vocalist/guitarist, Alex Luciano, is haunted. There is a ghost named Sarah who follows her and messes with her gear.
These types of endearing tidbits were sprinkled throughout Diet Cig's set, which gave the whole experience a friendly feeling of fun. Although Luciano said that she had been working through "summertime sadness Lana Del Ray bullshit" feelings, you would have never known. She high-kicked, spun, and grinned with the abandon of a child.
This is sweet, sweet pop stripped down to the bare essentials: a guitar, drums, and a beautiful soprano voice.
Oh yeah! She and Brady are birthday twins too. So happy birthday, Leo ladies!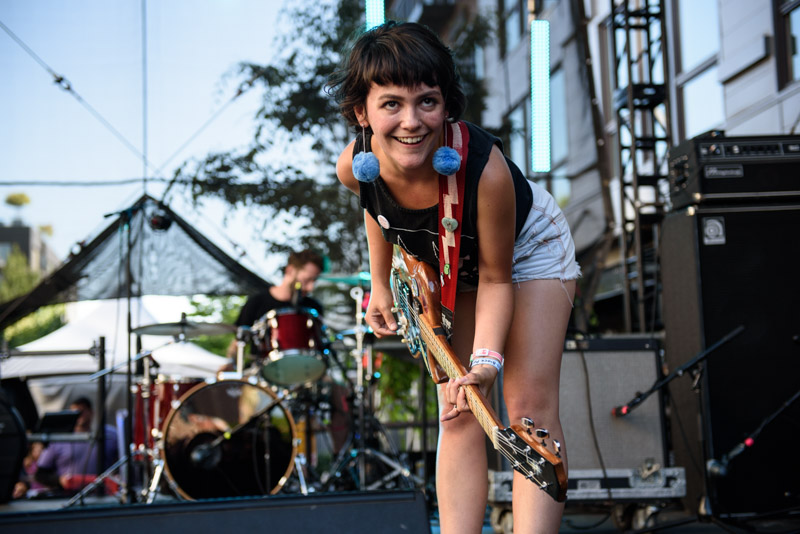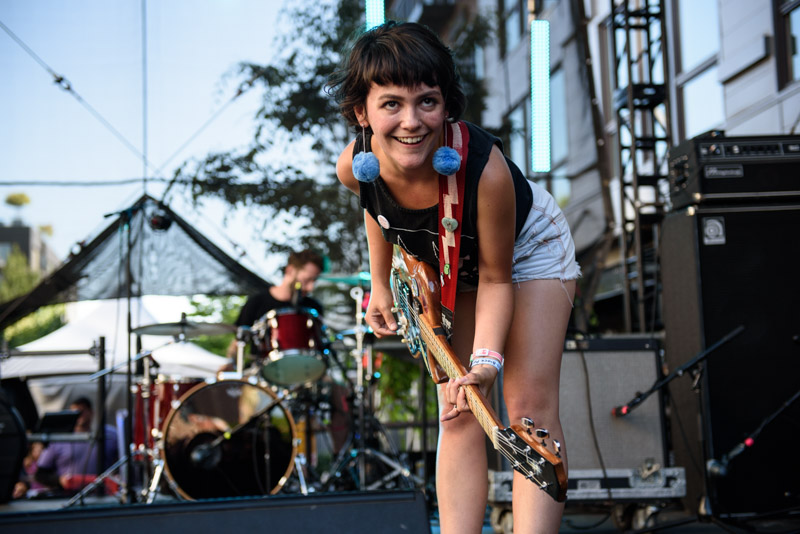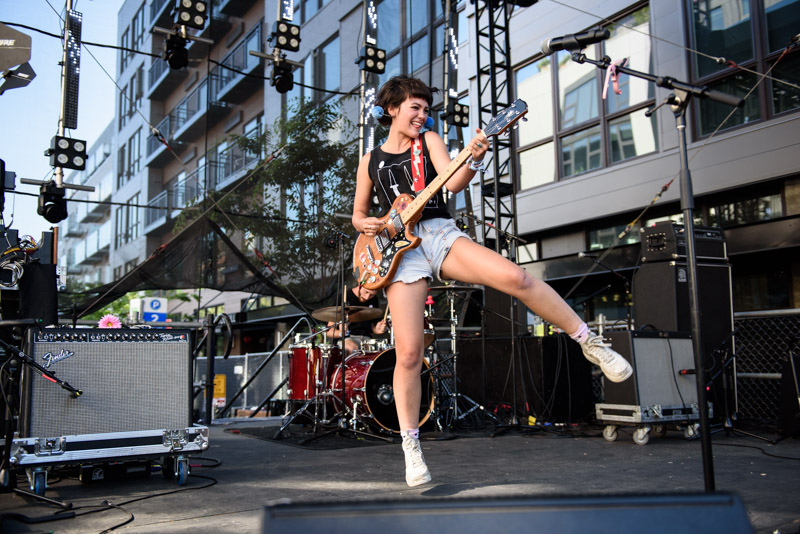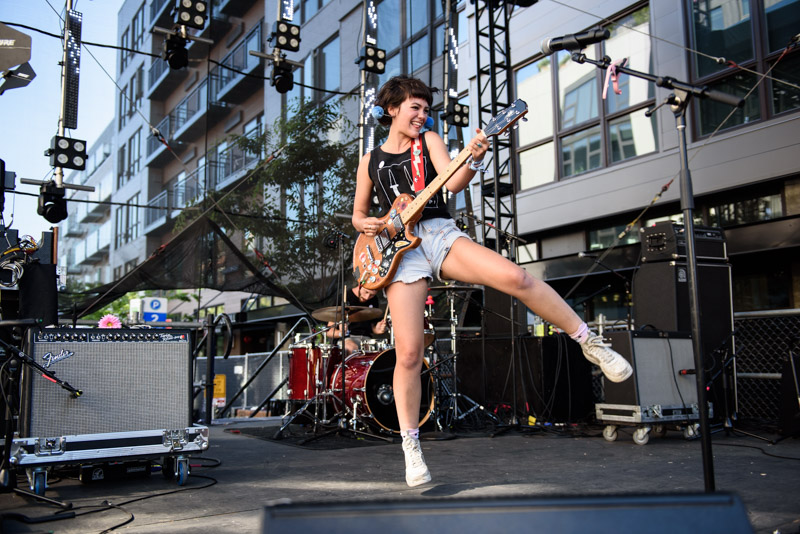 I saw Torres from a distance as they turned on the slow burn with indie rock realness. My friend Danny probably said it best as we let their sparse lead lines and arpeggiators wash over us. "That back beat says, 'I hate everything.' It makes everything sound more painful."
Hurts so good.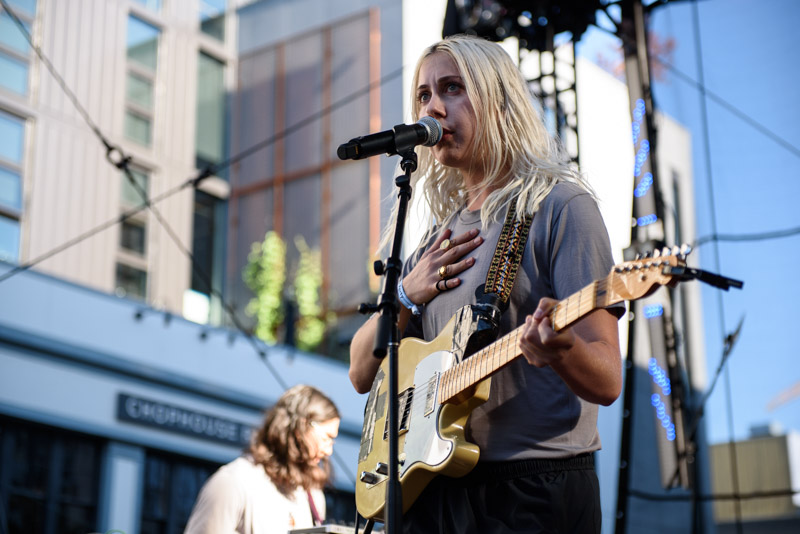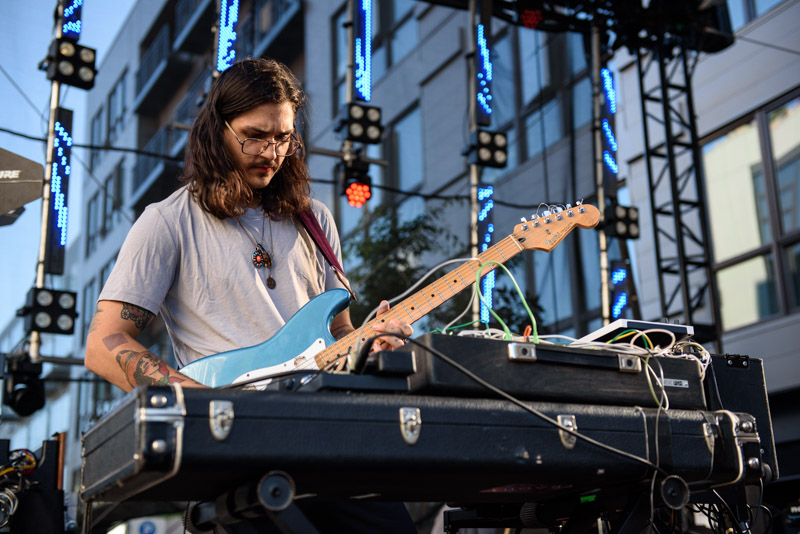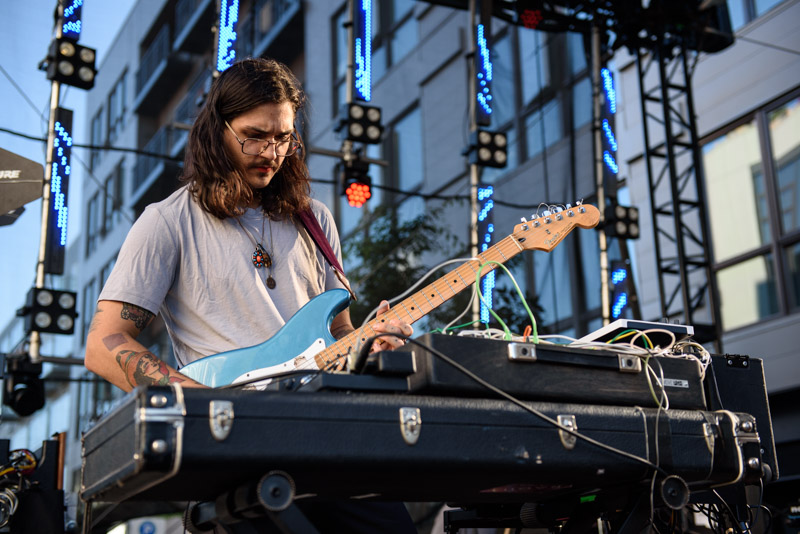 The sun was setting into our eyes as Angel Olson's backing band took the stage in gray suits complete with black bolo ties.
Angel Olson class act, and she's not afraid to say what she wants. She said "hello" to the photographers before giving them some advice. "Make sure you don't saturate the shit out of it. Make sure you focus on darkness and lightness at the same time."
The North Carolinian is the perfect modern Wanda Jackson with a hint of Dolly Parton. This was highlighted for me during her performance of "Give it Up"–a personal favorite.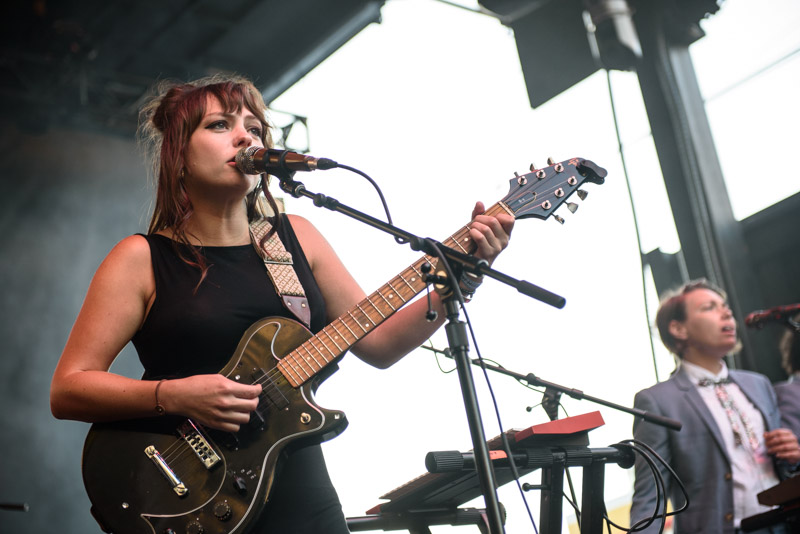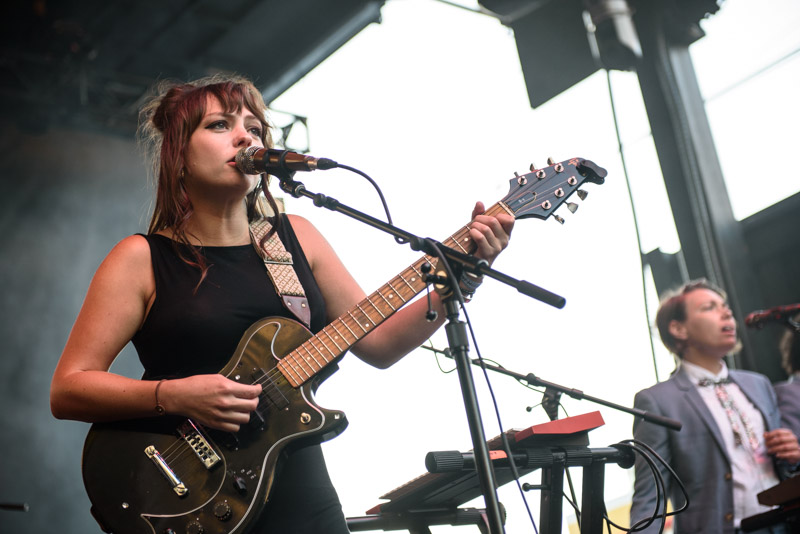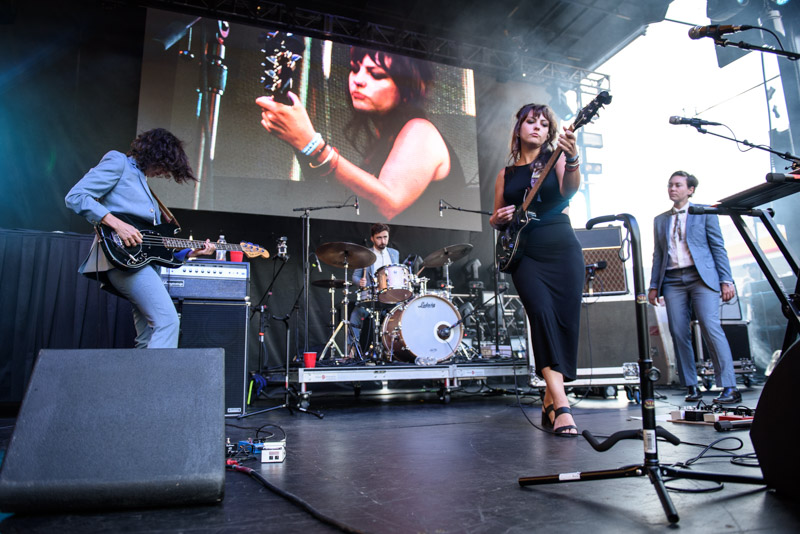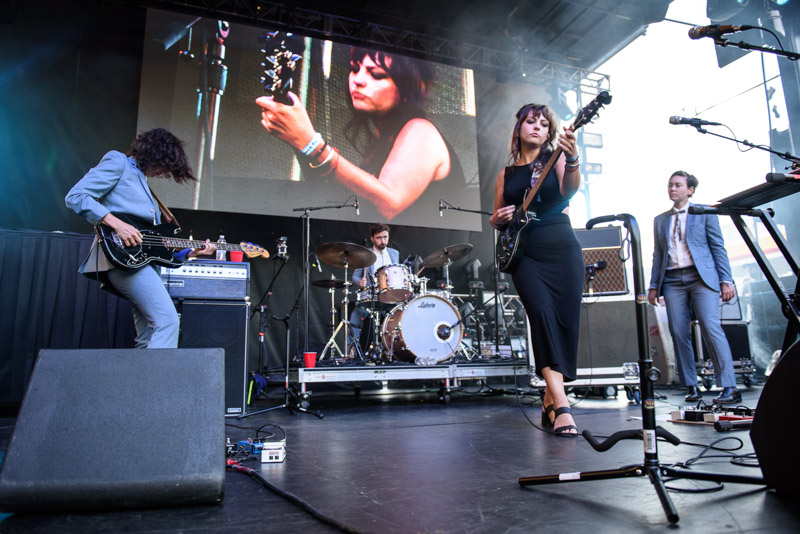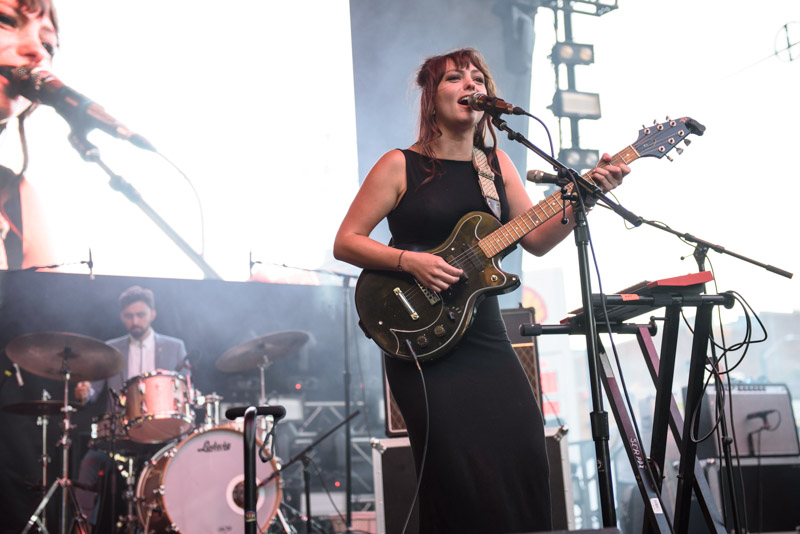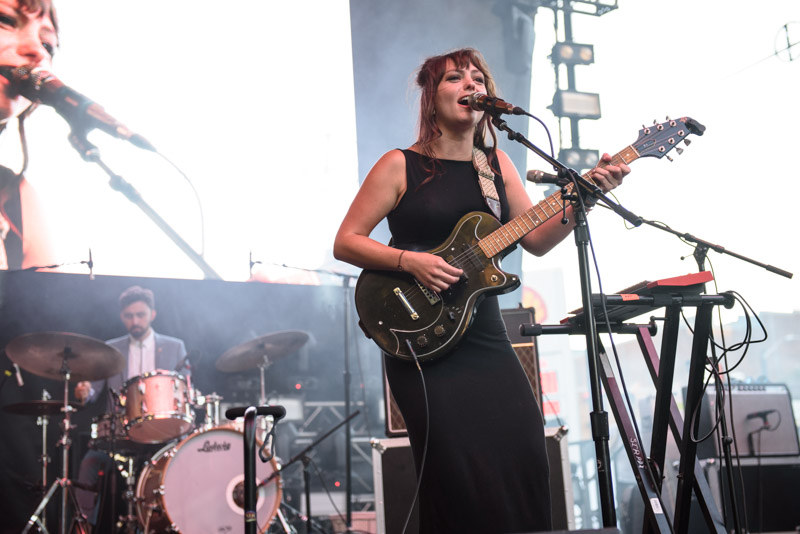 You know when people talk about the "it" factor? Mike Hadreas is the personification.
He stepped onto the stage to the delicate notes of the piano as it began the exquisite lullaby, "Otherside." Hadreas closed his eyes and swayed as if singing from an internal, special place. As the song exploded with an angelic burst of sound, he thrust his arms open, letting us into the delicate, powerful passion that is Perfume Genius.
Perfume Genius is a constantly evolving artist. His work continues to grow with every song he creates. I felt this while watching him perform "Wreath" from his newest album, No Shape. Within its driving beat and tight harmonies I heard the influences of such greats as Erasure, Toto, Roxy Music, and Spirit of Eden. Even so, Hadreas could never be confused for another. He is truly unique. That is something to be celebrated. And celebrate we did.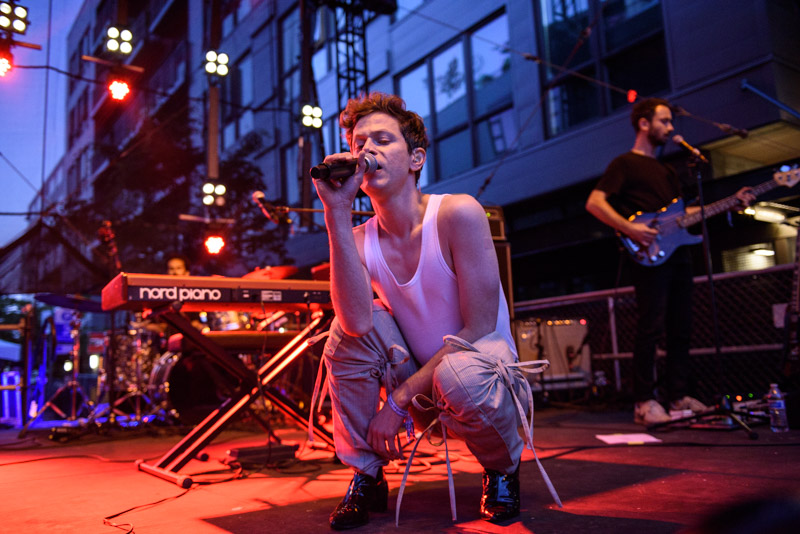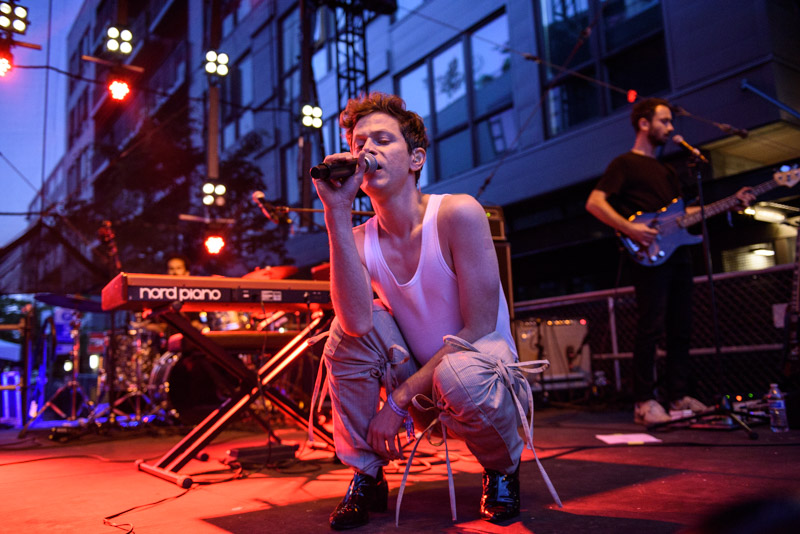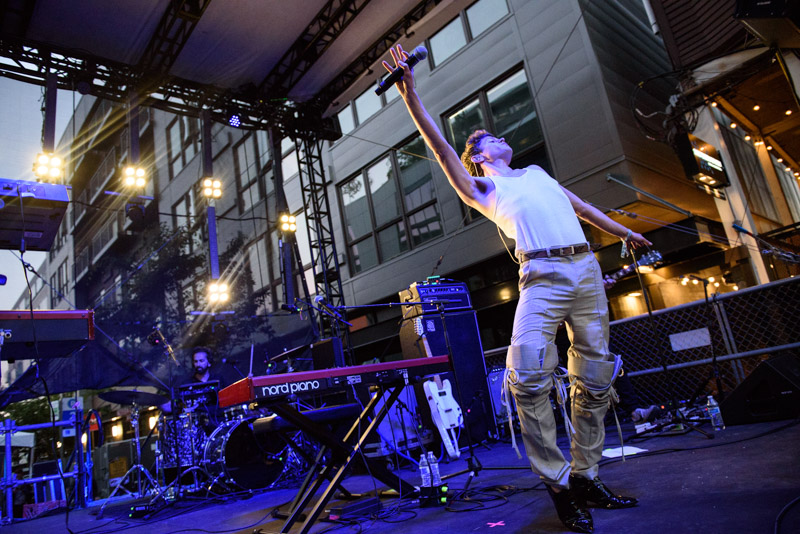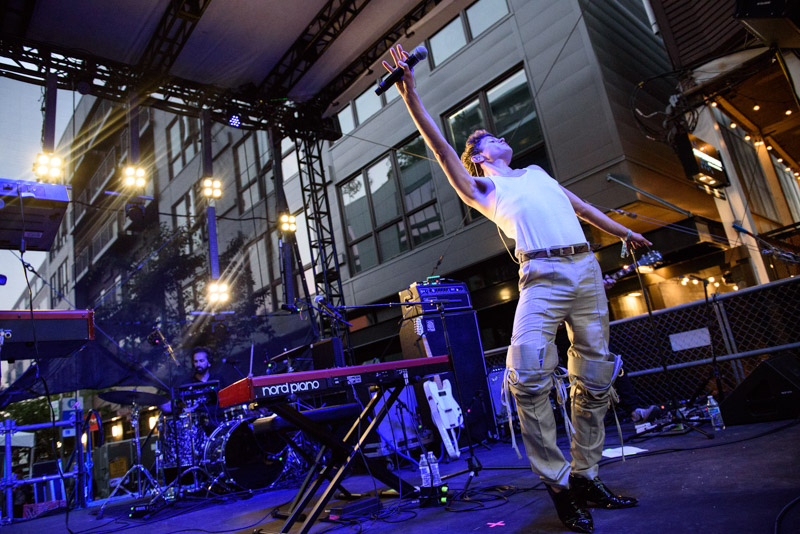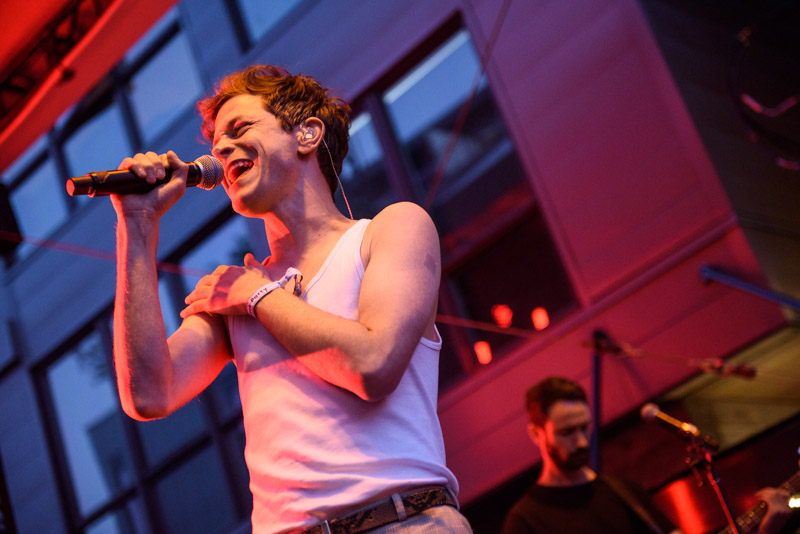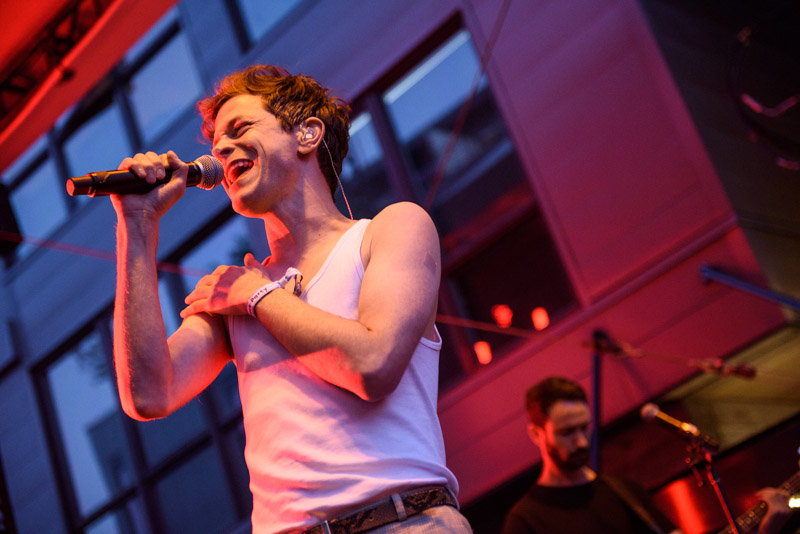 I can only describe Diplo's set from my limited and unique experience, which was from inside a group of hundreds of sardine bodies.
I invite you now into the scene.
The music pounded and screeched as the hoard danced with abandon.
"I want to make this the best party of the summer," Diplo shouted into the mic.
I made my way through millions of sweat-drenched limbs hell-bent on covering me with their human juice. I was OK with that, I mean it was the final dance set of a music festival. As my body was knocked and thrown through the frenzied crowd, I looked with envy upon those looking down from the safety of their office windows. Lucky jerks.
The revelers keened with ecstasy (emotional and chemical). This was their moment. The spirit of summer had come to life, raining down exultant bass. Heat and light assaulted them, and they basked in its glory.
"Jungle Bae" blasted into our stupefied faces as the frenzied crowd tossed their arms to the darkening sky.
I followed their their gaze toward the strobing stage as bodies thrust into the air.
I could see nothing.
Scene.
But Brady could! I leave you now with the final images from this fantastic weekend. Thanks to Three Imaginary Girls and to Brady for inviting me to be a part of this crazy fantastic weekend. Here's to summer!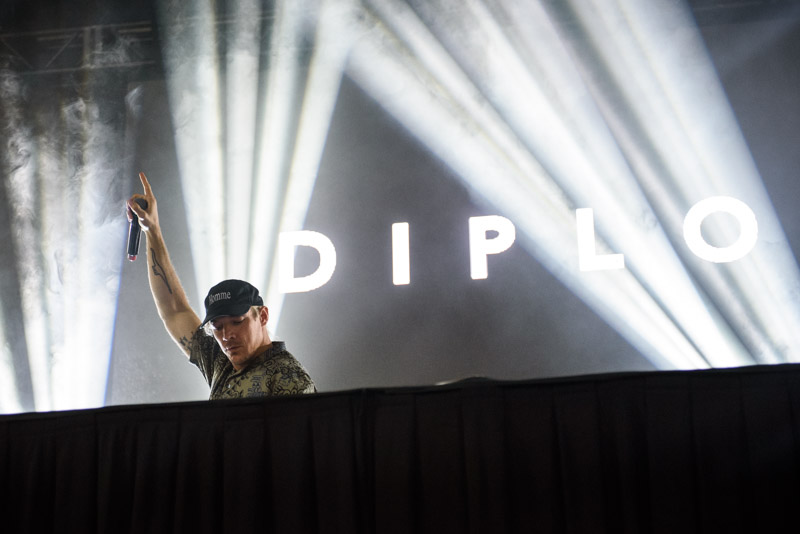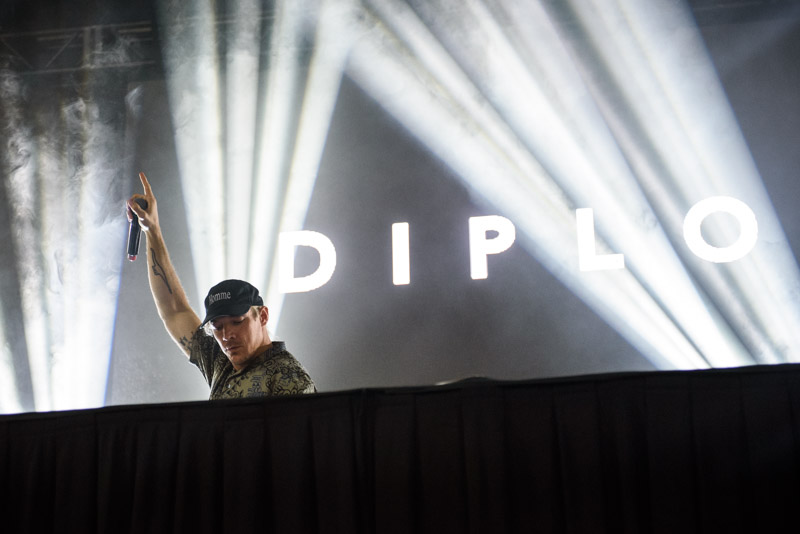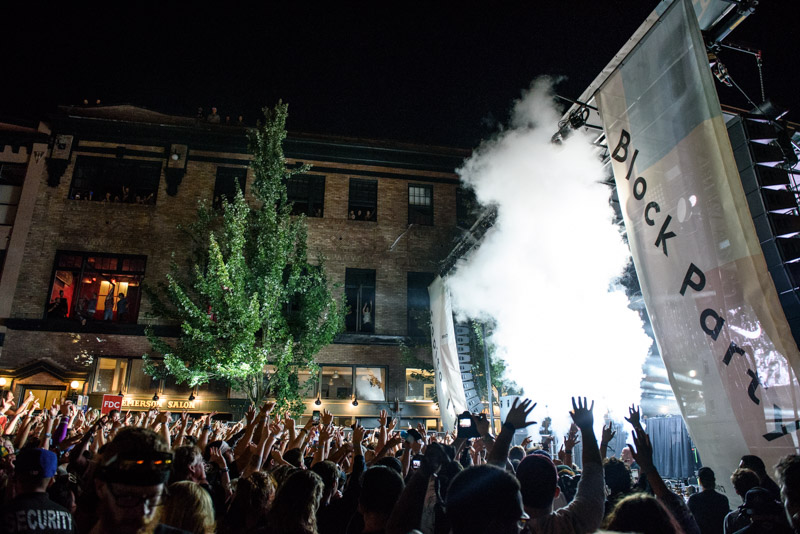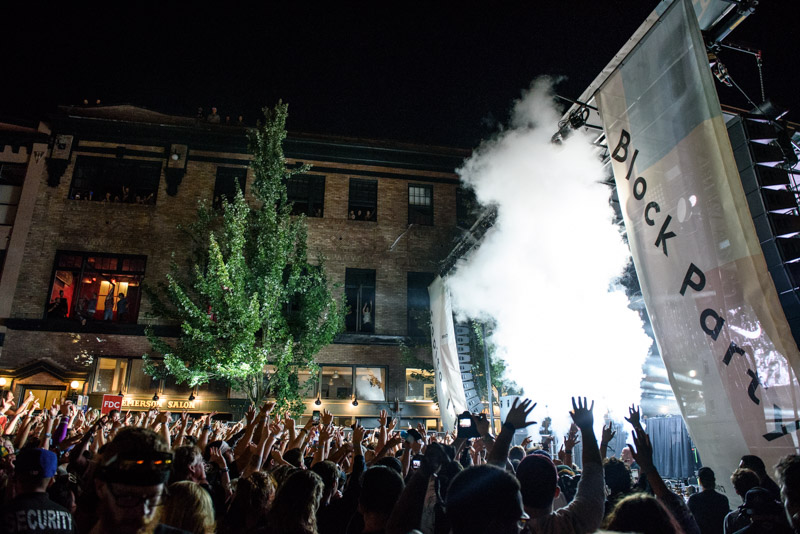 (Photos by Brady Harvey.)