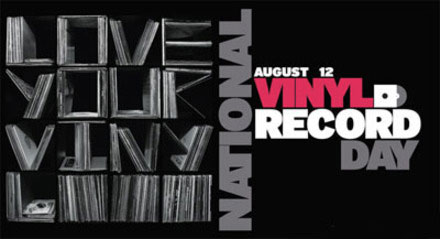 Oh how we heart all things related to the vinyl record: the warmth of the sound as the needle glides across the shiny round surface. The ritual of exploring every inch of the square cover with liner notes and enveloping artwork. An afternoon with stack of records is an afternoon well spent!
Well, we're not alone in this assertion: the folks at the Henry Art Gallery have put together a weekend of activities celebrating the record as part of their exhibition, The Record: Contemporary Art and Vinyl. If you haven't stopped by to see the exhibit, it's a look at the culture and breadth of the vinyl record mystique through the eyes of over 40 artists from around the world. The exhibit runs through October 7, 2012 and features a slew of fascinating events throughout its run. This weekend's special events related to the exhibit include:
Friday, August 10, 2012 – 6pm-8pm
Record Appreciation with Kathy Slade and Brady Cranfield
Visual artists Brady Cranfield and Kathy Slade will host a casual listening party that will look at the role vinyl records have played a role in their work both physically and conceptually.
Sunday, August 12, 2012 – 12pm-3pm
National Vinyl Record Day
135 years ago on this date, Thomas Edison invented the phonograph! To mark this special day, aka National Vinyl Record Day, head to the Henry for an afternoon of celebration. Festivities include a record sale and a panel discussion with both large and small local northwest labels. The panel chat will include discussion of "production, distribution, and cultural economy of the Record as both medium and social object."
And looking ahead, mark your calendars for the remaining events scheduled in coordination with the exhibit:
August 24, 2012 – Record Appreciation with Matthew Green
September 13, 2012 – Record Appreciation with Rachel Kessler