"John was a launchpad for a thousand careers, including mine. No one in any medium could match his influence as a supporter of new talent … without commercial interest or intent. Someone who attempted to please nobody but himself ended up forging one of the most profound links with his listeners in the history of broadcasting. He was an ordinary bloke with an extraordinary love for music. I and many others will never forget him."

Jarvis Cocker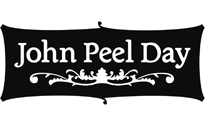 All year I've thought John Peel Day was going to be on October 12th (it was last year), but now I see that it was October 13th in 2005, and this year the BBC placed the 'oly day on October 11th.
I'm not sure if I condone moving around a holiday like that (isn't keeping track of Thanksgiving enough?), but I do love the thought of celebrating the memory of a man who touch so many lives with music, so I'll follow along with their willy nilly calendaring ways.
Anyway, here at imaginary headquarters, we're decked out with our mega headphones and favorite band tees to mark John Peel day.
I'm not sure how to further celebrate it other than giving thanks for all the great music discoveries you've been saved by in your lifetime. Or listening to your favorite underground mixtapes or possibly donating to your favorite public radio station (John Peel was never under the thumb of the commercial radio giant like most of the right of the dial stations eating up the airwaves nowadays).
Another idea is that we could delve into the archive of festivities of JP Day of years past on the BBC website. Shall we listen to full sets from The Fall or Super Furry Animals (posted on the BBC.com site). 
How will you mark the day?