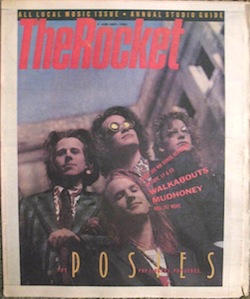 For many Seattleites, The Rocket was the best source for all the music things, and most of us knew someone involved with putting it together. I used to pick up my copies of this bi-weekly mag excitedly, (long before I was picking up copies of The Stranger or The Weekly) scanning the pages for upcoming shows. In particular, shows involving The Posies. Duh.
Anyway, after years of reunion rumors, Rocket publisher Charles R. Cross is throwing a party on Sunday, August 5 at the Feedback Lounge in West Seattle from 2-7pm for all the writers, artists, photographers, and staff of this long-missed local mag. All musicians that had write-ups in the paper are welcome too, which means that this has the potential to be one, big amazing musical event.
So what happens if you never worked there, contributed, or played in a band that graced the pages? Ask around—chances are you know someone who did who you can +1 with. And if not, just show up and pledge a BIG donation to MusiCares! Maybe you'll get lucky.
Our own Chris Estey, who at one time was a writer for The Rocket, talks a bit about why it was awesome, and why we miss it:
"Unlike the often insular vibe of alt-weeklies that have arisen since The Rocket ruled, this tabloid was more concerned with a healthy wide sweep of coverage both locally and nationally. Which means sure, there were plenty of articles on Heart and The Cowboys and Tom Petty, but also Ten Minute Warning and Laurie Anderson and Metal Church.
That's because from the beginning it was filled with creative talent in the editorial and writing pool, including Grant Alden (No Depression), John Keister (Almost Live), Charles R. Cross (who would expertly helm it for a very long time), and Ann Powers (NPR, L.A. Times, EMP Pop Conference). It had a unique staff of reviewers, including the wise and personable Dawn Anderson, who dug metal as much as punk and helped define the boom years genre that would spawn from such a marriage of tastes.
When Seattle old timers talk about The Rocket, their eyes glaze over a bit and they most often admit taking it for granted. In its time, bands loved to get enraged by the actually pretty well balanced reviews, felt utterly snubbed if they didn't get enough press in it, complained about it to each other but all desperately wanted to be covered by it. It had cool alternative comics by Matt Groening and Linda Barry and others who would go onto great things, and Sub Pop was an actual column by Bruce Pavitt before it was fully a label. (He focused on anything from Scottish pop to noise cassettes to greasy heavy rock with heartland ennui.)
At first I felt that it was a charming tap into the rock world that may not have been my favorite punk fanzine like The Offense, but was still more street level than Rolling Stone. Then I just devoured every issue thankfully. I started contributing my own reviews and interviews to it in the early-mid 90s. I was at the big 25th anniversary show at Moe's (now Neumos) and it seemed like the weirdest party ever—so many glamorous people, so many old school hoodlums who'd made it through cops beating us up and AIDS and so much dirty water under the bridge. Then it was bought by a publisher from California, and scandalously, in the middle of staff changes and empty promises to its crew, it vanished soon thereafter.
Immediately, just about everyone deeply mourned its passing; people who vociferously argued about some of its contents wailed and wept at the fact that it was gone. It was absolute proof that massive economic success for some people in our community and a steady influx of new entrepreneurs isn't always the best thing for our scene. It must have been murder to put out every other week for so many years; but it gave so much life and we were all enriched by its presence."
{The Rocket Magazine 33 1/3 Anniversary Party | Sunday, August 5 | 2-7pm | The Feedback Lounge | Free, with suggested donation for MusiCares}