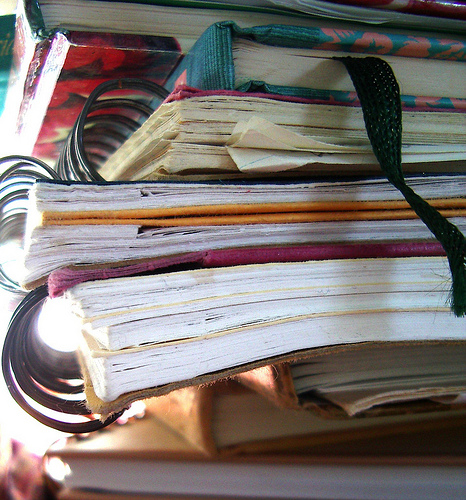 Like many an anguish-riddled tween, we here in the imaginary office have stacks upon stacks of notebooks from our youth, most (if not all) filled with some of the worst prose ever penned. And rather than box them up into quarantine up on some closet shelf, the fine folks over at Salon of Shame have found a way to celebrate those horrendously-worded trains of thought — in the company of strangers, no less.
In case you're not familiar, Salon of Shame is an event that happens about once every other month out in the ID (of late it's been upstairs at the small-but-perfect Theatre Off Jackson). You sign up in advance, get on stage, and read a few of your most angst-y pieces in front of about 100+ people. Right? Seriously. The night usually sells out in a matter of minutes, and rather than bring the Shame to a higher-cap venue, the kind folks that run it have decided that an intimate evening works best — so, you've got to either read or be quick with the mouse to get in. Tomorrow night (Tuesday, March 8th) is sold out, but for the brave souls, there may still spots available to read. Just contact the Shame-ers over at their website (http://salonofshame.com) to inquire about signing up.
Here's a clip from one of last year's Salon readings to get you in the mood:
[video: http://www.youtube.com/watch?v=6vd2iE8aduE]
We'll see you there!