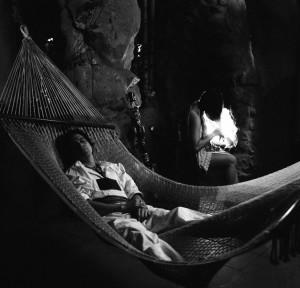 Thanks Stereogum for filling my head with Conor Oberst thoughts today.
The site informed me that the cover art for the new Conor Oberst album and a couple tracks from the August 5th release are available for mass consumption.
You can go hear "Danny Callahan" and "Souled Out!!!" streamed from the official Conor Oberst site. The songs promise an album full of his Neil Young leanings with juiced guitar refrains and sharp lyrical twists. I pretty much love it.
The cover art, well, as a Conor fan I'm totally fine with it, although I will readily admit that a lesser band might get some slack from me for the lead singer gone Pirates of the Carribean gone late siesta thing. But, since I imagine he wanted to take a departure from his usual varied media type artwork, I'm down. I'm sure this has some piece that makes him giggle inside — which I can be down with.
As Conor explains the album's origins:
This recording was made in Tepoztlán, Morelos, México during January and February of 2008. A temporary studio was created in a mountain villa — known for Aztec Magic and Extra-Terrestrial Sightings — called Valle Místico. The album was produced by Conor Oberst with much help from engineer and long time associate Andy LeMaster.

A special band was assembled for the recording, known amongst themselves and to friends as The Mystic Valley Band.
And here I thought I was ahead of the game by hitting the 'buy' button for tickets to the Conor Oberst and the Mystic Valley Band show at Neumo's on July 30th at the stroke of 10a on Friday.
In true Conor style, he'll be criss-crossing the globe and he wont be anywhere for long come July. Here's where you can catch him.
7/16 Studio SP, Sao Paulo, Brazil
7/17 Studo SP, Sao Paulo, Brazil
7/18 Cine Arte Normandie, Santiago, Chile
7/19 La Trastienda, Buenos Aires, Argentina
7/25 Billings, MT Bones Brewing
7/27 Calgary, AB Calgary Folk Festival
7/29 Vancouver, BC Richards on Richards
7/30 Seattle, WA Neumo's
7/31 Bend, OR Midtown Ballroom
8/01 San Francisco, CA Bottom of the Hill
8/02 San Francisco, CA Bottom of the Hill
8/03 Santa Cruz, CA Rio Theatre
8/05 Los Angeles, CA Troubadour
8/08 Nashville, TN Mercy Lounge
8/09 Carrboro, NC Cats Cradle
8/11 Philadelphia, PA Trocadero
8/12 New York, NY Bowery Ballroom
8/17 Saratoga, NY Saratoga Music Festival
8/22 Leeds, UK – Leeds Festival
8/24 Reading, UK – Reading Festival
8/26 Portsmouth – Wedgewood Rooms
8/27 London – Electric Ballroom
8/28 Manchester – Academy 2 s
8/29 Inveraray Castle, Scotland – Hydro Connect Music Festival
8/30 in Belfast, Spring & Airbrake
8/31 County Laois, Ireland – Stradbally Hall / Electric Picnic
9/2 Amsterdam – Melkweg
9/3 Brussels – Botanique
9/4 Luxembourg – Den Atelier
9/5 Zurich – Rote Fabrik
9/7 Munich – Backstage Werk
9/8 Zagreb – Studenski
9/9 Vienna – Arena
9/10 Prague – Roxy
9/11 Berlin – Columbia Club
9/12 Cologne – Gloria kets
9/13 Paris – Nouveau Casino
9/14 Larmer Tree Gardens, North Dorset – End of the Road Festival
9/20 Omaha, NE Anchor Inn
9/21 Nashville, TN Ryman Auditorium w/ Jenny Lewis
9/23 Fayetteville, AR George's Majestic Lounge w/ Jenny Lewis
9/24 Oxford, MS The Lyric w/ Jenny Lewis
9/25 Tulsa, TX Cain's Ballroom w/ Jenny Lewis
9/27 Austin, TX – Austin City Limits
10/02 Melbourne, AUS The Palace
10/03 Brisbane, AUS Tivoli
10/04 Sydney, AUS Enmore
10/05 Sydney, AUS Great Escape