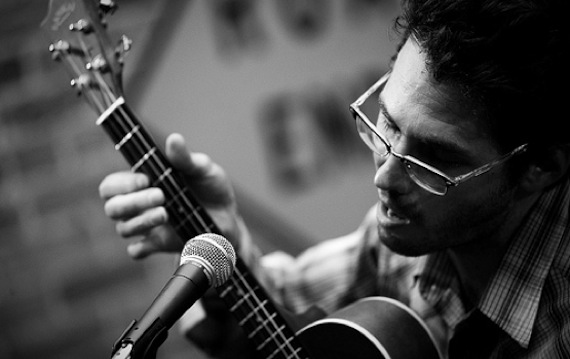 Well, there's just about a day's worth of hours left until the party officially gets started, and it's time to talk about Eef. Eef Barzelay, mainstay of Clem Snide, heartstring-yanker extraordinaire, producer of subtle genius-infected beauty with every touch. On top of killer studio albums, he put out an EP recently of Journey-only covers, a second of fan-request outtakes, and has longstandingly offered to pen you a custom song or record a few live tracks of your choice in an only-yours kind of session.
But rather than wax poetic about all the reasons why you need to come and see Eef Barzelay headline our holiday party tomorrow, we're just going to flood this post with gorgeous songs and videos so that you can let the love light shine in your own personal way. You're imaginary, just like us. You know Eef. You love Eef. Just bathe in it, feel all the feelings, and then come and stand in the front row with us tomorrow night and experience it all in person, for the first or fifteenth time.
You won't be disappointed — we promise. (But you already know that.)
Hear more of Eef here, and for the love of all things good-music-y, get tickets for tomorrow's show already. They're only eleven dollars and you can pick them up with minimal fees over at Brown Paper Tickets.
We'll see you at the show! xo