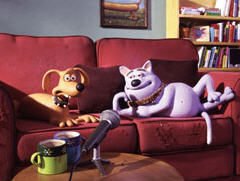 Creature Comforts began in 1989 as a short film by British artist Nick Park. In it, claymation animals in a zoo were matched with the voices of ordinary British citizens talking about their homes… and the result was nothing short of brilliant.
You may know Mr. Park best as the mastermind behind Wallace & Gromit; he created his first W&G short, A Grand Day Out, that same year. Both films competed for the '89 Academy Award in the Animated Short category, and Creature Comforts won.
Park and Aardman Animations would go on to produce more W&G shorts, numerous TV ads and PSAs, the subtly Marxist masterpiece Chicken Run, and the first W&G feature (again, brilliant) as well as two series for ITV based on Creature Comforts (equally brilliant). Stateside, you may've seen the original series on late-night Comedy Central or on DVD.
Aardman has graced us with an American version of Creature Comforts, and CBS began running the seven half-hour episodes, with very little fanfare, on Monday nights in early June. The original purpose of this blog entry was to encourage you to watch/tape/TiVo, but, as I feared, the show was just too good/clever/subtle/weird to last long on American network TV.
That's right, CBS has axed the show after three episodes, and, according to TV Squad, there are no plans to air the remaining four.
What a damn shame.
The premise — unscripted interviews with members of the American general public becoming vignettes featuring plasticine animals in a variety of scenarios — somehow worked as gloriously as its Brit counterpart did. See for yourself:
More clips and two full episodes can be viewed at the CBS CC site. For now.