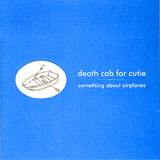 Please tell me I wasn't the only person to bust down the doors of the record store this morning to get this album (the re-issue of something about airplanes).
I just spent the last half-hour totally geeked out, sitting on the stage at Silver Platters, poring over Sean Nelson's liner notes… I suddenly don't remember how to do my day job.
Currently, I'm copiously playing the Croc show recording (which accompanies the re-issue) as loud as The Man will allow me to at my desk. It is fucking flawless.
Get in there, kids. It might be the best twelve dollars I've spent in the last decade.