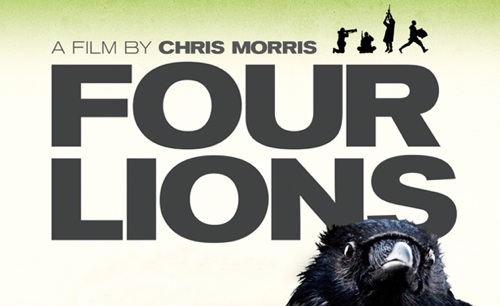 This past week I had the fortune to have an opportunity to sit down with Chris Morris, the director and co-writer of Four Lions, which makes effective comedy out of one of the most unlikely of topics – a homegrown British terrorist cell.
After some warming up discussing the media's irrational glee in over-hyping minor meteorological events from rain in San Francisco to the thought of snow in Seattle, we jumped into discussing the film. Ranging from Spinal Tap references and how to live your dream of being a penguin through virtual reality, to spousal support of would-be terrorists and back again to the art of swallowing unusual objects – a fair amount of ground was covered that afternoon….
I loved the film. I just had a hoot – in fact I think I annoyed some of the other press people by laughing a bit too hard.
CM: At least you weren't laughing during United 93, like I was.
*laughing* I haven't seen it. Though I guess I have to watch it now – now that you say that!
CM: Yeah, uh, it's worth watching.
The thing I thought was so interesting about Four Lions was that I was laughing, but then I felt kind of bad about laughing. Then I laughed some more. But then I wondered, should I really be laughing? I'm kind of curious how often you hear that from people. And if that was intentional?
CM: I have heard it. Not that often. But I'd say, sometimes. Sort of enough that for it not to be an unfamiliar thought. But I guess I have to leave that one for you, I mean I can't speak for your feelings. I think we made sure that the jokes that we were playing in the film were those that represented what I found in real life. Whether it was through reading, talking to experts, or talking to people who had been radicals. Though of course they weren't, you know … anyone you talk to about exciting stuff it was always 10 years ago, not just now. Or whether I was in court looking at cells, guys in the dock, reading the transcripts. The sort of humor that's in the film reflects that. So, I'd just say laugh the whole way through – don't bother about whether you should or not.
Yeah, well I did – though it was kind of an interesting view when I got out afterwards.
CM: Yeah, no I think that you have to….I mean look, it's complicated. Things are not trivial in the film so you're bound to be … Just as in real life. I was just talking about this thing that happened two or three weeks ago with this guy in Indonesia. This jihadi was delivering a bomb. He had a bomb belt on and he was riding a bicycle to his target. And he swerved to avoid a hole in the road and hit a lamppost and exploded. Now you know depending on how well you knew him…it's a direct scale of distance as to how funny you'd find it. With the film you get to know people and then things that may look funny but are a bit lethal produce that conflict.
I think it's that getting to know them that makes the film so impressive. Not that many comedies do that, but this one does. The one character I'm most curious about…Omar of course you get to know, actually I got to like, which is a little creepy in and of itself…but his wife. I was curious what you and the other writers were thinking about when you wrote the wife. Because what in part makes Omar scary is that he has this great home life – the wife is so supportive.
CM: Well, there are lots of things going on there. Omar's status is not quite at the bottom. But you have to say he's probably thinks he's born for better things than being a security guard on the night shift. He has a family life because he's chosen to get married and they have a kid. And that mirrors the reality as well. It's not as if every jihadi is a happily married well balanced person but you get that – that's the thing that surprises you. These aren't guys who are just sort of desperadoes of one kind or another.
Once you discover that's the truth and once you see the head of the London bombers – I don't know if it's still online, but it's part of court evidence in another case – he was filmed at home by a friend with his nine month old daughter on his knee making a video for her to watch after he'd gone on to Afghanistan, he was thinking he was going to Afghanistan to go and fight and probably to die and so he was saying "you're the best thing that's ever happened to me, you and your mum are the best things in my life. I'd love to watch you grow up and learn to walk and learn to talk."
And you think, he's giving the "good guys speech." In his family home, this is a baby whom he will have fed by hand. He's not doing any of the evil stuff and that causes you to question it. The real answer is that these guys don't sit around thinking that they're evil. The Barry's of this world maybe exceptionally do…but they sit around thinking that they're fighting the good fight. So that's what makes it hard to take because you're just looking down the wrong end of the telescope so to speak.
Do you find in the transcripts and in the research spouses being that supportive?
CM: Not always. No, there were cases where…there was one case where there was an ongoing catfight between a husband and wife. He was clearly keeping things from her. But then he was leaking, saying things like "look I'm into something I can't even begin to tell you about." There was a funny conversation when he was berating her for not going to Friday prayers. And she was saying "but I was busy." He was saying, "that's not good enough, you've got to go to Friday prayers." And she said, "Why don't you go to Friday prayers?" And he said, "because I'm doing something that I guarantee you is much more important." It's this idea that you can parlay your religious obligations if you're following through on a bigger religious obligation. Or was he just making excuses? That was a different one where you would wonder that she might know something but he wasn't sharing the information.
There are others where they don't know anything at all, and there are others where they're basically sending letters of support or email. Or sisters or cousins will sort of say see you in the next life. And that's when you have a case where they've got a functional relationship, they talk it through – they think this is a resistance movement against oppression, it's come to this, so we're doing the right thing and why wouldn't you? If that was a scene between a soldier and his wife, the soldier having doubts and she said – look you've got to go back out there and fight even if you're going to be killed, that's you isn't it?
It's helpful to look at it that way…
CM: You'd sort of go – yeah…so it's just the again, the 180 switch. 

In terms of audience, I know the film was out in the UK quite a while ago and just coming to the US now. Who do you want to see the movie? I have two questions I guess: who do you want to see the movie, and the other question is – have people who might be the characters in the film maybe have seen the film?

CM: A lot of Muslims have seen the film. And it was a hit with Muslims in Britain because I think they recognized so much in it. I had friends texting me saying "I'm in a cinema in Manchester, I'm surrounded by Asian girls wearing veils and every time they laugh their veils go horizontal like an elephants trunk" – so you get that sort of sense. In Britain I was very pleased when there was a mixed brown and white audience and they were all laughing. That was gratifying. But these are all sort of anecdotal incidents. You can't really dream of an audience. I'd like a lot of people to see it here because every American audience I've seen watch it has enjoyed it. And that seems to me to be what it's for. So you want people to see it and enjoy it. And I think the British experience was…you might expect maybe the response would be different on either side of the Atlantic.
That actually was one of my questions…
CM: Well, it hasn't been the case so far. I think each screening is an exception at the moment. There's not enough of them – there's only been ten or twelve – to create much of a pattern. In fact, even in Britain there was a sharp divide. We played it recently as a fundraiser for the Pakistan floods in Bradford, which is a northern city with a big Muslim Pakistani population. The response there was crazed. They treated the actors like rock stars.
It's very different than an arts cinema in London. There's a big tonal spread, just as there was in LA two days ago. The difference between screening at the Arclight at that sort of rather pristine acoustic and the cinefamily screening room which is a much more noisy box. They have very different atmospheres. I think, I hope, and I think that people here would really enjoy it. I think it may feel like, "Do I really want to see a comedy about terrorism?" but it's not as paradoxical as it sounds.
Have you had in the US or in the UK anyone really, really negative reaction – from people even trying to make political hay of the whole thing?
CM: Not really. I mean there have been negative reactions. *laughing* It's bad for me to be my own witness at this point. There have been so few negative reactions that they don't really form a pattern. Anything other than as a sort of a broadcast perhaps from a desperate soul. No, I haven't really found myself having to defend it, yet. Not that I wouldn't or couldn't but that hasn't really been the case so far.
Where did the "Puffin Party" come from?
CM: That came from a website called "Club Penguin". Do you know it?
No, I've been meaning to go and check…
CM: Just go out there and check Club Penguin. You can enroll yourself as a penguin. Give yourself a little password and toddle about as a two-dimensional sea bird.
Seems like a life dream actually…
CM: *laughing* Why not?
Did you pull that from, in terms of remote communications, from records?
CM: Well they do, there are various basic methods involved and they're all too funny when you see them in court. They call themselves "I love chili peppers" or "Friends of Kali" or "Cool and Kinky" or whatever they do. The codes are very basic – "I can't make it to the wedding anymore because I'm a bit worried about the clothes." Often they're weddings, business conferences. They've probably changed the tone now. In fact there was one recently where all the codes were in terms of critical analysis of Big Brother. Quite good really. So I thought it would work.
That's the thing, anything I thought was funny. We have to be sitting in our room Sam, Jesse and I coming up with ideas that would actually work, but are also funny. The sad fact is that if we'd been brown we would have been arrested. Our communications would have been intercepted – we'd have been banged up. Because we were coming up with…couldn't you do this…couldn't you do that. But that as a communication system, pretty good idea. If it's an idea for sale – I'll take a small cut.
I have my kind of film nerd question from the film. I'm trying to figure out if I'm trying to imagine it and just invented the similarity… Even your own press materials call out the similarity with Spinal Tap and Dr. Strangelove. The small size AK and the Faisal exploding as the "drummer" in their band – is that an intentional reference to spinal tap? Or just in my head…
CM: No, there are all sorts of unintentional references. There was a point where Sam congratulated me for incorporating The Ladykillers into the film when I'd given them the excuse that they were pretending to be a band. But I'm afraid…there are things that definitely inspired it. Tonally it's hard to do a comedy I find, my contemporaries have all been slightly baked in the Spinal Tap oven because that was such an absolutely brilliant example. That's the sort of tonal touch point. You actually refer to it not remotely directly but as sort of an iconic feeling of getting things right. So that informs it. I think if there's any other…Strangelove is not really – that sort of crept in I think because a few journalists drew references.
Yeah – I thought it was Spinal Tap that it was more tonally aligned with.
CM: That's the thing, because basically it's a bunch of guys being a bit pathetic. Quite a lot of the time. The Strangelove thing came from other people writing about it and that's how it found its way into the press release. The fact of Strangelove having made a comedy about the world blowing itself up gives you … it just is instructive. You realize that once that's happened you should be able to make a comedy about anything I think – because that's a comedy about the end of mankind. So to that extent it's informative. 

There are lots of little things in there. The difference between punching out an animal in Blazing Saddles and punching out an animal in Conan the Barbarian is a very good demonstration of how to and how not to shoot a bit of physical comedy. It's a single relaxed wide shot in Blazing Saddles – bam! And the horse goes down. It's just an unvarnished funny thing to watch. In Conan the Barbarian it's kind of like cut to behind, a camel falls over, it's clearly a fake camel – it's clearly 3-4 shots. It's horrible – it's not a joke.
It's not even memorable – I barely remember it.
CM: No – I hunted it down because Faisal one of our associate producers said – in fact there was one bit early on where I was thinking about Omar in training camp doing that became legendary in training camp, and we had a much longer sense of how long he'd spent out there – I wanted him to punch out a mule or something. I thought no – that's Blazing Saddles – and then had a discussion where Faisal said, "You should check out the camel in Conan the Barbarian." And yeah, it's terrible…so, those things inform quite a lot of the way you do it.
Can you talk about Barry's obsession with swallowing everything in sight – from SIM cards to urine, apparently?
CM: *laughing* yeah – an oral fixation… a baby bottle gone wrong? I think once he's done it once – it wasn't him who was peeing in his own mouth…
No, that's true … but it's only from here to there…
CM: I haven't even begun the full psychoanalysis of Barry, but there really should be a third if it was a fully consistent thing. He did – he went SIM card, key, SIM card – and then out. I've got friends who do … anybody who does tricks with their mouth – I'm not wishing to sound smutty when I say that – but basically sword-swallowing that sort of thing – I mean if they can do it, they can do it and it becomes something you don't think twice about. Anyone who can drain beers right down their gullet…so we just thought – Barry had a past which was certainly not Islamic. I think he became a Muslim in order to continue his project to bring destruction to the world.
Thank you so much for taking the time to talk.
CM: Thank you for your interest. 


A great pleasure – I really enjoyed the film.