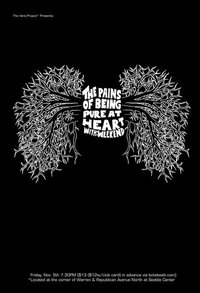 It's been over a year since the sparkly/fuzzy/jangly imaginary favorite Pains of Being Pure at Heart came through town, and we're just as smitten with them as we were the first time we heard "This Love is Fucking Right".
If you jump over to Pitchfork today, you can check out the new POBPAH single "Heart in Your Heartbreak". As with their last amazing single "Say No to Love", they've dropped the fuzzier bits and moved things a bit more into a super clean classic power-pop meets Brat-pack-soundtrack. The new single will be out in a couple of weeks (hopefully they'll have copies at the show!) and rumor has it a new album will be out on Slumberland next March.
The show is all ages and starts at 8, and supporting are recent Slumberland signees Weekend (not to be confused with Seattle's Weekend who are equally impossible to google).
And, even though I've posted this before, I adore this POBPAH video for "Say No to Love". Let a little indie pop cuteness brighten your day.
[video:http://www.youtube.com/watch?v=qMyURfKRTEM]