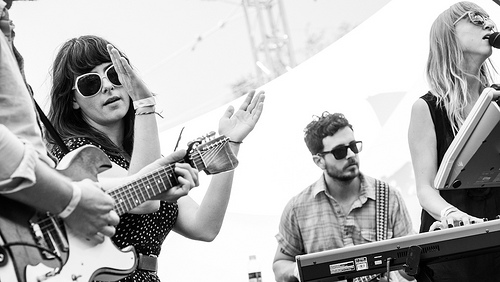 It's Friday, the election stuff this weekend was bonkers, and we're all ready to call it for the weekend, so let's get down to brass tacks: The Mynabirds rule, and you should absolutely go see them at the Sunset tomorrow night.
Now, of course, we know you're already going to the Grand Illusion with us to see Hype! — but fear not, imaginary friends. There's three bands on the bill at the Sunset (and PS, the two who are not The Mynabirds, Legendary Oaks and River Giant, are absolutely worth checking out if you aren't able to come to our screening) which means the MBs likely aren't playing until midnight or so. And while you're traipsing around on the internets between now and then, don't let their recorded work fool you — the Mynabirds are a band you have to see live to appreciate, and you're just going to have to trust me on that one. I liked them so hard this year at Pickathon that I went to see them twice.
See you at the Sunset!
{Mynabirds photo by Victoria VanBruinisse.}