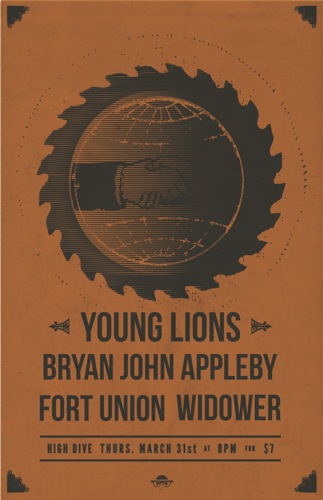 Good music, good people, good ol' Fremont, good ol'… well, everything. These are our high expectations of this up-and-coming Thursday night, when Young Lions, Bryan John Appleby, Fort Union, and Widower take the stage at the High Dive.
In the event you're not familiar with all these fine folks, take a moment to do some parking with your soon-to-be-favorite corners of the internet: Young Lions will have some live tracks up in the next minute or two (if they're not up already) with up-to-the-moment details on their Facebook page here; the new-great (as opposed to late-great) Bryan John Appleby will woo-and-croon you into submission at his Bandcamp page here. And of course, as we heard last week, Fort Union's got some new tunes up at their Bandcamp mixed by the Mighty Gary Mula, and you can find those just begging to be clicked right on over here.
(Not to be left out in the cold, of course — Widower is kicking strong over at the MySpaces here.)
Come early, stay late, bring your ID (this is a 21+ show) and get ready for some full-frontal new-local music assault. Doors are at 8p, and we can pretty much guarantee that all four bands at once = the best show you'll find this week for a mere seven bucks. So don't be late. We'll see you there!