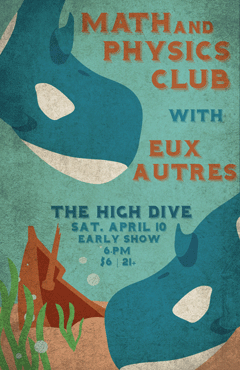 March Madness has morphed into Awesome April and it's kicking into high gear with a pair of Math and Physics Club shows this month.
The updated four-piece (now with new drummer and sans-strings), will play a couple low key shows at the High Dive on April 10 (this Saturday) and April 17 to test drive some new songs for their upcoming trip to the San Francisco Popfest (over Memorial Day weekend) and their highly anticipated album release show at the Crocodile on June 12. Both High Dive shows are going to be early (6p-8p) and have the sweetest of openers: Eux Autres (on April 10) and The Special Places (on April 17).
These shows are not to be confused with their album release show, which will be Saturday, June 12 at The Crocodile. It's going to be an off-the-hook affair made complete by co-headliners Aqueduct and opening indie-pop-freshness from Skeletons with Flesh on Them. We pulled some strings and sweet talked some folks into letting us hear the new MAPC album (due to release in mid-June on Matinee Records) and it's no exaggeration that it's going to be a Battle Royale for album of the year between Los Campesinos!, Nana Grizol, and Math and Physics Club. More info and snazzy poster-age for this very special album release show (which Three Imaginary Girls is proud to present) coming soon!