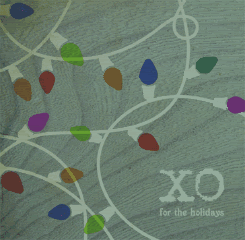 Since we're all being bombarded with Christmas music everywhere we turn around these days. Since there seems to be consensus from Clear Channel that people who don't like Christmas music don't exist, I'm trying to find some holiday music that is both available free (to post here) and doesn't suck.
One thing that is definitely worth your time is xo publicity's "xo for the holidays" compilation. It features both originals and some old holiday staples from bands that are on the publicists roster. Here's the tracklisting (which you can download individually below or go here to download the whole thing as a .zip file). So far, I'm liking Benjamin Bear's "Traveling Disciples" and The Winter Sounds' "Ragtime Manifesto."
Tracklist:
1. Service Group – "Merry Xmas Everybody"
2. Master Slash Slave– "All I Want For Christmas"
3. Romeo Spike – "Christmas Diablo"
4. The Winter Sounds – "Ragtime Manifesto"
5. Super Awesome Villains Forever – "Secret Santa A Christmas Song For Josef K. Boehm"
6. Paris Luna with James Taylor, Jr and Wes Ables – "Back Home for the Holidays"
7. Benjamin Bear – "Traveling Disciples"
8. Blue Skies For Black Hearts – "It Never Snows On Christmas"
9. THe BAcksliders – "That's How We Do Christmas"
10. Here Comes Everybody – "Snow"
11. Bumtech – "Maoz Tsur (Rock of Ages) / O Holy Night"
12. Blue Skies For Black Hearts – "Christmas (Baby Please Come Home)" written by: Barry, Greenwich, and Spector
13. Play> – "Happy Christmas War Is Over"