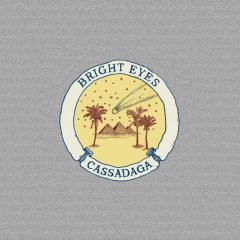 Yesterday while enjoying the rain/sunshine weather duel in Ballard, I stopped by Sonic Boom Records and my eyes became transfixed on the end cap display with Bright Eyes' Cassadaga. I stood, hemmed hawed and thought: should I just buy it now?
(Has everyone heard the story about how my pre-ordered copy still hasn't arrived due to my over-enthusiastic clicking in the ordering process?)
I succumbed (that bewitching cover art was calling me) and when the friendly Sonic Boom clerk checked me out, he said, "and with each Cassadaga purchase you get a free Bright Eyes canvas bag and a Bright Eyes fortune cookie." I got so lightheaded that I think I might have said I was going to come back the next day and buy another copy (might as well start my holiday shopping, right?). The canvas bag added-bonus upon purchases was like all this drama with my pre-order copy was meant to be!
Now that I've listened to the album, I hear a more mature Conor with a depth that he explored in I'm Wide Awake, It's Morning. This time there's more strings and less folky… but you can tell he's been hanging out with M. Ward and his birthright to be the next Bob Dylan following its course.
With him already being #7 on the Amazon.com top sellers and Cassadaga trending to make a strong billboard chart debut, it looks like the revolution might be gaining momentum (hello to all my new friends).
Is a surprise to anyone that I nearly had to pull the car over when I heard "Hot Knives" for the first time (the song in which he sings "Yea, I've been fucked, so what?")?