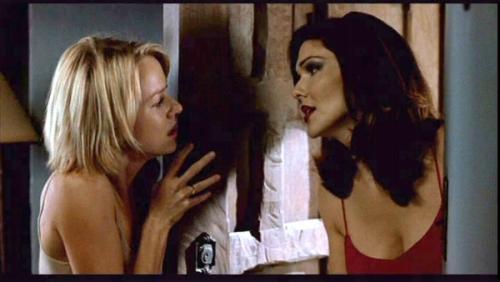 I'm letting my inner fangirl out to tell y'all about something TOTALLY AWESOME coming to SIFF Cinema at the Uptown, starting this Friday, January 13!!! In Dreams: The Films of David Lynch is going to screen from 1/13-1/19, which means everyone gets a chance to see a retrospective of Lynch's work on the big screen, including my two faves: Mulholland Dr. and Wild at Heart.
Ticket prices = $10 | $5 SIFF Members | $9 Youth (20 & under) and Seniors (65+) | Matinees: $7 | $5 SIFF Members
Here's a quick guide to what's playing (in case you want some imaginary tips from a longtime Lynch fan):
The Elephant Man
January 13, 7pm & January 14, 1:30pm
Even if you've never seen this movie, you've probably heard its most iconic line, "I am not an animal! I am a man!" (abridged). One of the most straightforward Lynch films, this black and white Victorian-era tale tells the story of the severely disfigured John Merrick (a heavily made up John Hurt) and the doctor (Anthony Hopkins) who rescued him/tried to help him assimliate into normal society instead of being a freakshow pet. It's heartbreaking and beautiful, and I love it. HIGHLY RECOMMENDED.
Eraserhead
January 13 and 14, 9:30pm
Lynch's first feature-length film (which took 5 years to finish) is a trippy nightmare of surrealistic weirdness. I uh, watched it a lot "under the influence" – please intrepret that any way you like – during my teen years. It's hard to explain, and (I think) better left as mostly a mystery for first-time viewers – and it's throughly enjoyable. Recommended for the curious, hardcore film fans, and people looking for something original and miraculous.
The Straight Story
January 14, 4:30pm
No bells, no whistles, and no Lynchian dream-mares left up to wild intrepretation. It's the least Lynchian of all things Lynch! This is a straight-up drama about a guy (Richard Farnsworth, who won an Academy Award for this role) who travels across country on a lawnmower to visit his dying brother and try to make amends. It's REALLY good, and definitely a must-see. Recommended for those that think Lynch's usual fare might be a little *too* weird for them.
Wild at Heart
January 14, 7pm
This is the Lynch movie people seem to love to hate, but I LOVE love everything about it. How can you beat Nicolas Cage wearing a snakeskin jacket and talking like Elvis, a tramped-up Laura Dern, and a good Vs. evil theme involving a ton of Wizard of Oz references? Basically it's about an overprotective mom who wants to get her daughter away from "the wrong guy", and ends up hiring a bunch of assassins to deal with it. I was rooting for Sailor and Lula to make it through all the shit Marietta (played by Dern's real-life mom, Diane Ladd) piled on them the very first time I saw it, and have enjoyed it multiple times since then. Plus, it's got some killer violence, and you know I love my splatter! I also promise you Willem Dafoe at his absolute creepiest. HIGHLY RECOMMENDED.
The Short Films of David Lynch
January 15, 4:30pm
If you love Lynch, or really, if you love the art of short film, these are a YES. My favorites from the bunch are The Alphabet, and The Cowboy and the Frenchman, but honestly they are all really really great. An awesome way to spend 97 minutes!
Dune
January 15, 7pm
Awww, baby-faced Kyle MacLachlan! I saw this as soon as I could get my hands on a VHS copy, and loved it immediately. Sure, it skews a bit from the Frank Herbert novel (don't even get me started on what the Spice Navigators look like!), but I still have great love for this one. The problem is, Lynch didn't love it after production was finished, and thus had them slap the name Alan Smithee on it instead of his.
This one was my favorite thing to argue about with customers at the video store who would ask for the "director's cut" of Dune, meaning the 6-hour version that had been spliced together with discarded footage and rough sketches, and aired on TV. By that time, the theatrical cut had been re-released on DVD and David Lynch's name was back on it, coming in at around 140 minutes. So I could snottily say, "THIS IS THE DIRECTOR'S CUT, JERKS!" – a tactic not appreciated so much by my boss. Recommended for Sci-Fi geeks and lovers of Lynch's casting – almost every character is recognizable from something else…including more peeps from Twin Peaks. And Sting! IN a gold thong! I am also still totally astounded that they had to paint all the Fremens' eyes blue right on the film.
Blue Velvet
January 16, 7pm (with Film Craft Commentary by Ron Leamon, costume designer)
I'm sure this is the Lynch film most are familiar with – the critical darling that made him famous, nominated for a ton of awards, and showcasing amazing performances by Issabella Rosselini and Dennis Hopper (not to mention my imaginary boyfriend, Mr. MacLachlan…again). It's a technicolor dream of gorgeous scenery, and a shockingly brutal portrait of the bad things that happen underneath an idyllic neighborhood's pretty exterior. It's also probably single-handedly responsible for all those hipsters drinking PBR. Just sayin'. This one is NOT TO BE MISSED. You gotta see it in all its glory on the big screen. Trust me!
Twin Peaks: Fire Walk With Me
January 17, 7pm
Another film people love to hate, but I fricking ADORE it. I watched the series faithfully every week when it aired, and proceeded to fork out mucho dollars to attend not one, but two, Twin Peaks Festivals. So I know a thing or two about some seriously nerdy levels of Twin Peaks fandom.
Most people I talk to hate that Lynch used this as a prequel and kind of cryptically included clues about what exactly happened during the last "fuck you" episode of the show instead of wrapping up what the hell happened, but I really really really loved watching Laura Palmer's last days play out. There's a lot of good stuff happening here, and all of it is completely horrifying…and GREAT. Another one I HIGHLY RECOMMENDED – although if you haven't seen the series and are planning to at some point, there's some major spoilers in this. 🙂
Lost Highway
January 18, 7pm
Aha. We finally reach a Lynch film I'm actually not that fond of – which is something I have been screamed at for by other fans. Like, literally. Screamed. At. And, if I remember correctly, there was some name calling involved too. Look, it's fine, I just don't think it's his best….and I love Bill Pullman! I just don't love him in this movie. The first half is all about Fred Madison (Pullman) who's a saxophonist with a hot wife who's probably cheating. Honestly it's so dark on screen it's hard to make out exactly WHAT is happening.
The only thing I'm sure of is that Robert Blake scares the crap out of me as the Mystery Man. Then at some point Madison's arrested for killing his wife, and then in jail, turns into another dude (played by Balthazar Getty) and is released – and then the movie gets way more interesting. At least to me, it does. I don't know…Dick Laurent is dead. Or whatever. Take it or leave it – I know most people really love it, so while I'd say you could skip it, you might like it.
Mulholland Dr.
January 19, 7pm
Imagine my excitement when it was announced that Lynch had another TV show in the works called Mulholland Dr.! And then my ire at the network who programmed it for changing their minds after viewing the pilot. Jerks. Anyway, lucky for me, he finished the pilot with some extra stuff and made it a feature film. And WHOAMYGOD, you guys. This is quite a ride.
Naomi Watts plays Betty Elms, a starstruck young actress hoping to make it big in Hollywood, who stumbles into a frightened woman (Laura Elena Harring) who's been in a car accident and can't remember her name. Or wait…she also plays Diane Selwin, a bitter, jealous, and completely desolate actress who's in love with Harring's Camilla character…and, well, I don't want to ruin anything for you. Let's just say that Naomi Watts is such an amazing actress that she's almost not recognizable as the same woman in each role. Prepare yourselves for some naked girl-on-girl action….and also, prepare yourselves for the scariest smiling old people ever to grace the screen. I'm not kidding. TERRIFYING – and HIGHLY RECOMMENDED!