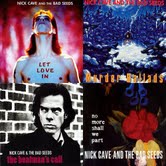 The next round of Nick Cave and the Bad Seeds reissues is set for release on May 17th. Four classic mid-period albums will be unveiled in deluxe CD/DVD format with audio and video extras in addition to 5.1 surround sound. Included in the series are the manic and doleful Let Love In (1994), the twisted and darkly humorous Murder Ballads (1996), the heartbreakingly gorgeous The Boatman's Call (1997) and group's last great triumph, No More Shall We Part (2001).
All four of the albums in this installment include the original stereo album remastered on CD in addition to a DVD with the album in 5.1 surround sound, which also contains b-sides, promo videos and a short film about the record.
For a chance to win all four of these indispensible collectors edition rereleases, please send an email to tig at threeimaginarygirls.com with "Nick Cave Reissues" in the subject line.
Visit the Nick Cave and the Bad Seeds website for more information, including full track listings and details about the DVD extras.