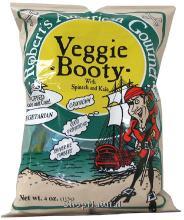 The manufacturer of Veggie Booty is recalling the product after alerts by the federal government of possible salmonella contamination.
From a Newsday story on the recall:
Robert's American Gourmet Food, Inc. said it was recalling all lots and sizes of Veggie Booty, which is distributed nationwide and in Canada through local distributors, Internet sales, phone orders, mail orders and retail outlets. The announcement did not say how much product was affect.

Veggie Booty is sold in a flexible plastic foil bag in half-ounce, one-ounce and four-ounce packages.

Robert's said it had been notified by the Food and Drug Administration and the U. S. Centers for Disease Control and Prevention of 51 cases of salmonella in 17 states related to the consumption of the Veggie Booty, mostly children three years or younger.

"The investigation is ongoing at the company and we have ceased production and distribution of the product pending results of the investigation by the FDA and the company," Robert's said.

The company advised consumers to destroy the product but keep the packaging and call 1-800-626-7557 or email info@robscape.com for refund.