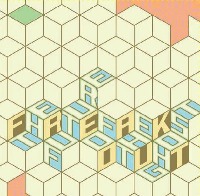 The Future of the Ghost recently sent us their self-released cd and their self-released cd is my happy find of the day.
The trio is from Salt Lake City, UT and their sound reminds me of Racetrack with Figurines-like vocals that quiver giddy urgency and Pavement all over.
Their track "Did You Forget Them?" especially sounds like something off Skeleton Key – jagged, hurried, concise, raucous and slightly mathy.
Check out the songs on their MySpace — particularly "Run Free Little Bird" and "It Goes Down" (which almost sounds like a Pavement cover).
If you feel like planning ahead… they've already got their March tour plotted out with a stop in Seattle on March 3, 2008. I love planner pants bands!