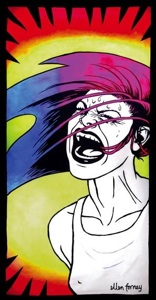 If it hadn't been for my Twitter friend @JohnstonMike, I wouldn't have known about this awesome free bundle-o-music at Tether Gallery tonight for its First Thursday exhibition, featuring "Thunderbitch: Women Designers in Northwest Rock".
The art is all about females who created looks for musicians, including fliers, posters and album covers, and ranges from 1966 to the present including a piece by Neko Case (!!!), and one of my favorite photographers, Alice Wheeler.

The music is all about variety, starting off with peformances by artist and songstress Barbara Ireland & Stone Freakin' Gossard (!!!!) at 6pm, followed by the amazing Visqueen at 7pm, and then at 8pm: a show with Damien Jurado in the gallery itself.
I had aleady planned on hitting First Thursday this eve with a friend, buy hey – I thought I was just going to see some art! Now I'm even more excited. How 'bout you?
(Pictured: L7 Poster by Ellen Forney)