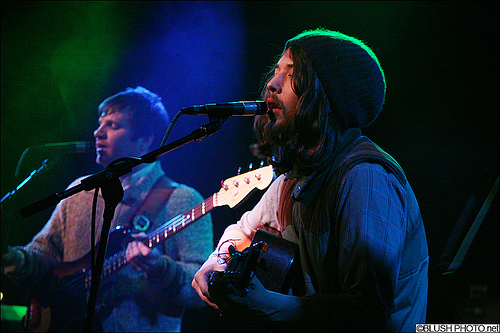 We have been in total Fleet Foxes overload these days, but hey, the band is awesome and on the brink of some pretty exciting things…. like the forthcoming release of their debut full-length on Sub Pop, and a tour that takes them all over the damn world.
That's why I'm writing about the band again today. Sub Pop just announced the band's summer tour dates, and boy oh boy will there "what I did my summer vacation" essay be interesting come the start of next school year. Just look at where our hometown boys will go!
Saturday, May 24, 2008
Sasquatch! Festival, George WA

Friday, May 30, 2008
Paradiso, Amsterdam Netherlands

Monday, June 2, 2008
La Fleche, Paris France

Tuesday, June 3, 2008
Botanique, Brussels Belgium

Wednesday, June 4, 2008
Knust, Hamburg Germany

Thursday, June 5, 2008
Cafe Zapata, Berlin Germany

Monday, June 9, 2008
Audio, Brighton United Kingdom

Tuesday, June 10, 2008
Louisiana, Bristol United Kingdom

Wednesday, June 11, 2008
Barfly, London United Kingdom
@ University of London

Thursday, June 12, 2008
Social (Nottingham), Nottingham United Kingdom

Saturday, June 14, 2008
Whelans, Dublin Ireland

Sunday, June 15, 2008
Brudenell Social, Leeds United Kingdom

Tuesday, June 17, 2008
Road House, Manchester United Kingdom

Wednesday, June 18, 2008
ABC, Glasgow United Kingdom
@ ABC2

Thursday, June 26, 2008
Bottom of the Hill, San Francisco CA

Friday, June 27, 2008
Casbah, San Diego CA

Saturday, June 28, 2008
Echo, Los Angeles CA

Sunday, June 29, 2008
Spaceland, Los Angeles CA

Monday, June 30, 2008
Solar Culture, Tucson AZ

Wednesday, July 2, 2008
Mohawk, Austin TX

Thursday, July 3, 2008
Loft, Dallas TX

Saturday, July 5, 2008
Drunken Unicorn, Atlanta GA

Sunday, July 6, 2008
Local 506, Chapel Hill NC

Monday, July 7, 2008
Black Cat, Washington DC

Tuesday, July 8, 2008
First Unitarian Church, Philadelphia PA

Wednesday, July 9, 2008
Bowery Ballroom, The, New York City NY

Monday, July 14, 2008
Middle East, Cambridge MA
upstairs

Tuesday, July 15, 2008
Le Divan Orange, Montreal Canada

Friday, July 18, 2008
Terrace, Madison WI

Saturday, July 19, 2008
Pitchfork Music Festival, Chicago IL

Sunday, July 20, 2008
7th St Entry, Minneapolis MN

Tuesday, July 22, 2008
Hi-Dive, Denver CO

Wednesday, July 23, 2008
Kilby Court, Salt Lake City UT

Friday, July 25, 2008
Doug Fir Lounge, Portland, OR
Still with me afte that two-month whirlwind adventure? Good, cause the band also has a single available for free download. The song is called "White Winter Hymnal" and it has been a live favorite.