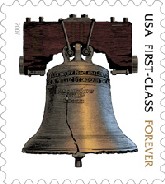 Attention all tightwads: new postal rates (41 cents for a regular envelope) go into effect Monday 5/14, so get those bills in the mail asap. Or stock up on 2-cent stamps. Or get some new Forever Stamps, which are available at the new first-class rate and will presumably be good for mailing a one-ounce envelope from now until this nation goes down in flames.
Or, best option, set up auto-pay if you haven't already and leave stamps out of it altogether, especially now that postal regulators have accepted a proposal from media giant Time Warner that burdens smaller print pubs with higher periodical rates while locking in special privileges for bigger media companies. (This replaces the USPS' own proposal, a more sensible one that would have imposed an equal increase on all publishers.)
This isn't the first time big-business involvement has threatened our marketplace of ideas. You can make your voice heard by signing freepress.net's letter in support of independent media.