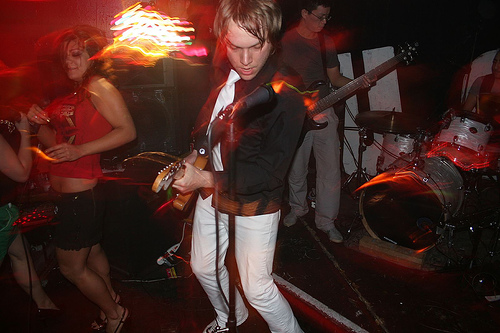 There're a lot of good shows tonight, but we have to recommend that we all head to Redmond to the Old Firehouse for an all ages benefit show with headliners U.S.E.
There are few bands in Seattle that can get the party going than U.S.E — their Daft Punk electronica sensibilities with good time festive lyrics are infectious! All proceeds from the show will benefit Erik Howk of Seattle hipster band The Lashes. Mr. Howk is currently in the hospital healing from a horrible fall last weekend that has left him with mountains of medical bills and months of rehabilitation. 
Also tonight is the super secret band on the bill at the Crocodile. Rumors have been flying to and fro… but our money is on some Vaxxine being in the house.
Headed south to Portland? You MUST get to the Thermals / Menomena / Bustling Townships show benefiting the Portland public school system's music education program. The event starts at 8:00pm in the Cleveland High School Auditorium.
Wow… and it's only Friday night — we still have the whole weekend ahead of us! What do you all have on your calendar for this weekend? Did we miss anything?