Psychedelic, jazz, analog: blend on the board and you'll get the sound of jammy quartet Foscil. Look twice and you'll spot two dudes from traction-gaining group Truckasauras, performing in alt-ego mode.
BLVD Gallery director Damion Hayes scored a coup in lining up a six-performance residency with Foscil. You have three more chances to catch Foscil performing in the contemporary urban art gallery. Performances are scheduled the last Friday of the month: April 25, May 30, and June 27.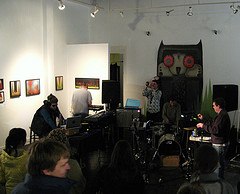 Foscil uses an interesting mix of instruments and electronic gadgets to produce a unique sound, including trumpet, drums, bass clarinet, Oberhiem OB-12, bass guitar, and an analog synthesizer named Voyager. (I wonder if any of the dials go to eleven.) Joining Foscil on Friday, March 28th was BTC (aka Brotha Too Cold) from Los Angeles. He alternated between mixing in loops from his Mac and adding a rich texture of funk to Foscil's groove via a double-necked guitar.
The chill, jazzy music with old-school synth pop and bleep fit perfectly in the gallery now showing artworks by Parskid and Chip7. The current art show runs through April 5th. If you check it out be sure to borrow a pair of 3-D glasses to get the full effect of the works from these urban artists.
BLVD Gallery
2316 Second Avenue
Seattle