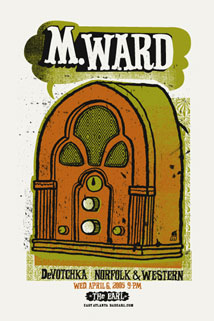 If you're feeling kinda cheap and bored with your current selection of MP3's, insound.com (the place where you can find the rarest of the indie releases online) is offering a ton of MP3s for your free downloading pleasure.
Yesterday they launched a compilation of FREE MP3s of today and tomorrow's biggest indie hits. The compilation, titled Let's Get Digital – Vol 1, features tracks from Dntel, Au Revoir Simone and Sea and Cake (among others).
If that isn't enough, check out their Free MP3s section. There's tons to choose from, but I'm particularly loving the Busdriver track I found in their virtual racks.
Need something visually and artistically stimulating to enjoy while listening to your new stash of songs? Click through their gallery of limited edition screen-printed posters. The only slightly depressing part is if you find a poster in which the bill was packed with all your favorite bands. I guess there are worse things than having to live vicariously through a poster?
High five in the name of free stuff!