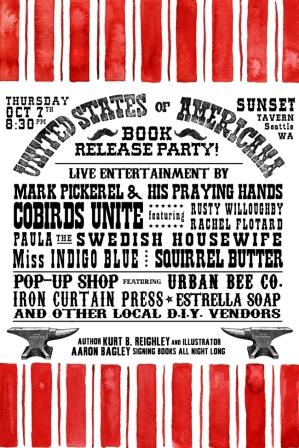 If you missed last week's reading at Elliott Bay Bookstore, fret not — while you won't get any verbal prose tonight, you can still join the party for Kurt B. Reighley's new book, United States of Americana: Backyard Chickens, Burlesque Beauties, and Handmade Bitters: A Field Guide to the New American Roots Movement. He'll be on-site all night long along with the book's illustrator, Aaron Bagley, to shake some hands, sign some copies, and do some celebratin' (as he rightly should).
They'll be getting their DIY on tonight down at the Sunset, along with performances by Mark Pickerel & His Praying Hands, Cobirds Unite, Paula the Swedish Housewife, Miss Indigo Blue, and Squirrel Butter. It's only $7.00 for all you 21-and-uppers, and with a lineup like that, there's really no reason for you not to go, now is there?
We'll see you in Ballard!