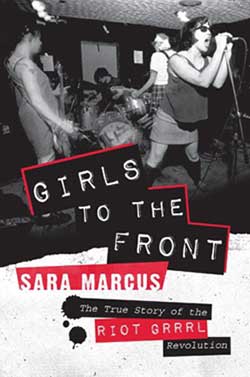 Brooklyn-based writer and musician Sara Marcus comes to Seattle tonight (Monday, October 11) to party with us for the release of her new book, Girls To The Front: The True Story of the Riot Grrrl Revolution (Harper Perennial). It begins early, at 5 p.m., and features a musical performance from the band Led to Sea.
Even without the addition of live music, this would be an exciting event, as Marcus was one of the very best presenters and presences at the EMP Pop Conference the past few years, giving fired-up papers and dialogue on punk politics and women, and presenting some of the best panels.
Girls To The Front is the most substantial and thrilling of the histories that have been published about the riot grrrl movement. Marcus puts you in between the legendary first meeting between late, illuminating avant-garde writer Kathy Acker and a just-awakening Kathleen Hannah, who lied about working on a magazine with legendary Seattle rock photographer Alice Wheeler in order to "interview" (i.e., meet) her hero at the Pike Place Market back in the early 90s. That's just one of the scenes that are expertly described and ruminated-upon in the book's 325+ pages.
Marcus has written for The Advocate, Heeb, Slate, Salon, and other sharp-minded markets, and her assessment of the spit-fire then-new worlds of Bikini Kill, Huggy Bear, Heavens to Betsy, Bratmobile, and other Olympia-Seattle-D.C. and beyond bands has been eagerly awaited by those familiar with her freelance work and her participation in the Pop Con.
Elliott Bay on Cap Hill should be overflowing with feminism-friendly, keenly literate, happy music fans tonight.