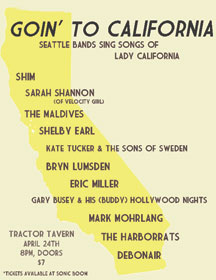 Tonight at the Tractor Tavern in Ballard there's a special benefit show going on. It's called "Goin' To California" and it features a whole bunch of Seattle bands singing songs about California. The whole thing is an Earth Day benefit and proceeds go to Sustainable Ballard.
Performers include:
SHIM, SARAH SHANNON, THE MALDIVES, SHELBY EARL of THE HOPE, KURT BLOCH & LESLIE BEATTIE (as "Gary Busey and His (Buddy) Hollywood Nights"), THE HARBORRATS,
BRYN LUMSDEN, DEBONAIR, CLAY BALLARD, GALEN DISSTON, KATE TUCKER & THE SONS OF SWEDEN, MARK MOHRLANG, and special guests.
Tickets costs $7 and doors are at 8pm.
I've been trying to think of as many California songs as I can, trying to guess what will be played. So far I've got:
"California Girls" (Beach Boys version)
"California Girls" (Magnetic Fields version)
"Goin' Back to Cali"
"Lights" (doesn't have California in the title, but is about San Francisco)
"Walking in LA" (by Missing Persons, remember that one?)
And of course, "Goin' to California"
That won't complete the night. What other songs am I forgetting??