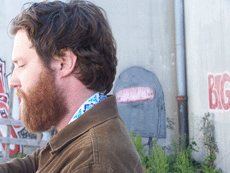 Tim Seely must be a huge Prince fan.
First he goes and names his label Slow Love. Then he records an incredible cover of "Slow Love" — which he saidly had to remove from iTunes because of conflicts with the the-artist-currently-known-as-Prince.
But today — he gets good news from Team Prince! Prince (and his publishing peeps) finally allowed Tim to place "Slow Love" back up on iTunes.
Tim also announced that he's in the throes of booking a nationwide tour, and he could use a little help from his friends. From his MySpace announcement…
"I'm heading out on tour around the US with my band in June. I'm booking/promoting it all by my damn self, so any help anyone can give as far cool venues in your town and booking folks you might be tight with, cheap/free places for us to crash etc., would be highly appreciated. Also, if you're a band with a following in your town that would like to package/trade a show, gimme a holler too: [email protected]."
He's requesting help in the following cities — but if you don't see your city there and you want to get Tim to come to your town, he also requests that you let him know, and he'll try to accomodate…
Seattle, WA
Boise, ID (June 2, Neurolux)
Salt Lake City, UT
Denver, CO
Omaha, NE
Minneapolis, MN
Madison, WI
Chicago, IL
Dubuque, IA
Louisville, KY (June 11, Glassworks Roof Deck)
Pittsburgh, PA
Boston, MA
NYC, NY (June 15, Living Room)
Philladelphia, PA
Chapel Hill, NC
Athens/Atlanta, GA
Nashville, TN
Oxford, MS
Dallas, TX (June 22, The Cavern)
Austin, TX
Tucson, AZ
San Diego, CA
Los Angeles, CA
San Francisco, CA
Portland, OR
Seattle readers — you can catch Tim Seely this Friday the 13th at the Tractor Tavern with Zig and The Quiet Ones.