I've always been more of a DC girl than a Marvel girl, but I'm still a sucker for superheroes of all kinds — and as much I &hearts Wonder Woman, I really, truly believe Black Panther is the BEST SUPERHERO MOVIE EVER MADE.
That's why I headed back to Museum of Pop Culture to check out their latest exhibit: MARVEL: Universe of Super Heroes, which features more than 300 original artifacts, including some of Marvel's most iconic and sought-after pages, costumes, and props. 
Co-curator Brooks Peck (Benjamin Saunders is the Chief Curator) led me through the exhibit, starting at the beginning: a ticket kiosk made up to look like an old-timey newsstand, because when comic books first came onto the scene, you could only buy them at newstands. Comic book stores wouldn't happen for many, many years to come.
After walking through the history of Marvel comics, including some absolutely beautiful original art panels (Flash! Gordon!) and a copy of Marvel comic #1, you turn the corner to see some large scale photo-ops of The Thing and Black Panther. I love me a good photo-op, so of course I posed for a few snaps. Hot tip: pay attention to the window behind Ben; a few visiting Marvel heroes drop in on the roof from time-to-time!
Next up in the breathtakingly gorgeous trio of Okoye, T'Challa, and Shuri's costumes from Black Panther — I mean SERIOUSLY. The detail! So good. So, so, so, so good — and then you move into Spiderman land, which showcases Spidey in the comics, a costume from Homecoming, and an upside-down Spiderman with his head at smooching level.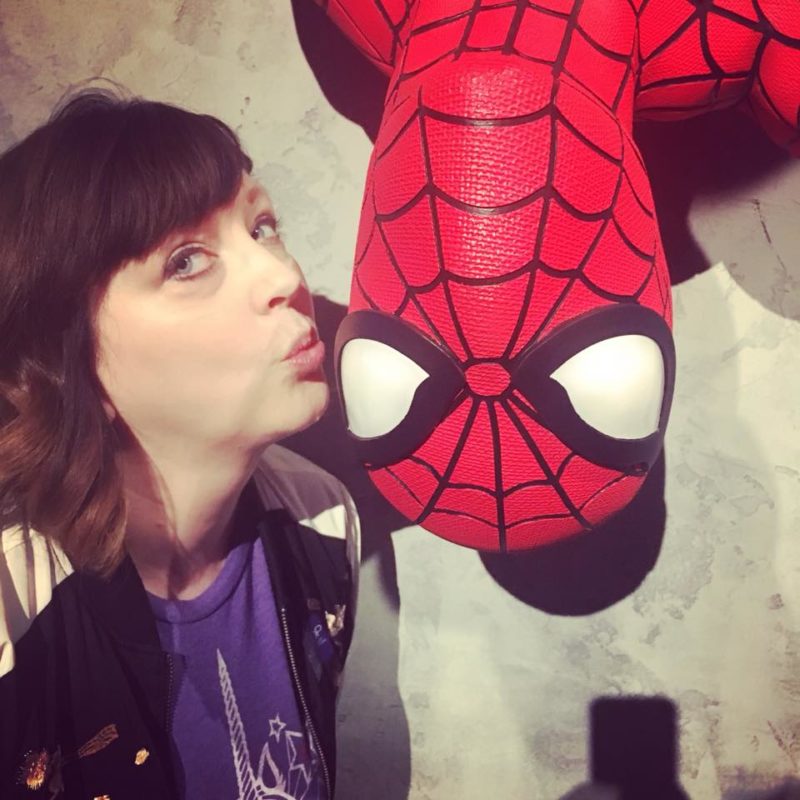 There's so much happening from this point on in the exhibit that your impulse will be to blast through, but take your time; there's a ton to see. More costumes, including three full-size Iron Man suits, Thor's armor and Mjolnir, a whole section devoted to Guardians of the Galaxy with costumes and props, and a teeny-tiny Ant-Man hologram running around on a desk (so cool!).
You can also pretend to be Iron Man himself in a virtual "game". Stand on a circle and watch as Tony's suit is applied to your body, and try your hand at flying and target practice using your new laser gloves (I was … uh, not good at that).
Downstairs, there's a whole other section with a space devoted to relaxing and reading comics, and a trippy carnival mirror illusion with moving projections and costumes from Doctor Strange. As you exit — perhaps a little disoriented — there's time to look at art from Luke Cage & Jessica Jones, and vote for your fave Marvel superhero.
The 10,000 square foot exhibition is MoPOP's largest to date, and chronicles nearly eight decades of Marvel Entertainment. In other words, IT IS HUGE. Prepare to spend at least a few hours in here.
The Opening Party is tonight, but sorry – it's SOLD OUT! So look for those red carpet pics tomorrow as you sob into your coffee cup (like I'll be doing). But! The exhibit opens to the public tomorrow (Saturday, April 21) and the celebrations continue all weekend.
Check out all the weekend action:
FREE OFFICIAL POSTER!—Take home the official MARVEL: Universe of Super Heroes poster designed by Marvel artist Nick Bradshaw for the first 1000 visitors (while supplies last)
Meet Marvel Characters-Avengers Assemble!

—Photo ops with your favorite costumed characters Iron Man, Black Widow, Black Panther, and Spider-Man

What's your Superpower?

—Using art supplies, think about an issue you see in your community, what superpower might you have that could help solve the problem? Draw a comic starring yourself with the superpowers you already possess

DIY Super Hero Costumes

—Follow in the footsteps of Tony Stark and Peter Parker and make your own costume prototype to support your newfound superpowers

SIFF Crash MoPOP

—In partnership with SIFF, kids 9-12 can embark on a movie production quest to create their best super hero films over the course of a day—registration and separate payment required.
MARVEL: Universe of Superheroes | Opens April 21 | MoPOP | 325 5th Avenue N Seattle, WA | Tickets (Save $2 online): Adult $36 | Seniors/Students $31 | Youth $25