June 2018 marks Three Imaginary Girls' 16th birthday of being Seattle's sparkly indie-pop press and we can't think of a more imaginary way to celebrate than a big NEW WAVE bash with some of our favorite local talent and YOU!
Join us on Sunday, June 17th at Chop Suey as we host the biggest TIG party of all imaginary time with some of Seattle's most stellar rockers taking the mic to sing in the key of new wave in front of the TIG backing band, including:
Doors open at 8pm and we'll kick off the tunes at 9pm as singers take their turn with the TIG backing band, covering the most imaginary of New Wave songs. The set list will be all new wave and ALL AMAZING as Seattle's Most Notable surprise us with their song picks. Will they possibly try out some New Order or Simple Minds or Elvis Costello?!
After that, OMG, hold me now – the band portion will be followed by two activities to round out the night:
a New Wave Dance Party with DJ Mike Steve
the smashing sounds of New Wave Karaoke KJ'd by the fabulous Baby Ketten
We'll also have a photo booth to capture you and yours in your super-finery, and some additional surprises!
Imaginary girls just wanna have fun and sweet dreams are made of this! I want candy… and you, to come to New Wave Night! OK, I'll stop with the puns now – I'm off to go find some hot pink shoulder pads and practice karaoking some Go-Gos songs. Please say you'll do a duet with me!
More New Wave Night awesomeness!
Post show update:
See videos of some of the stellar performances here! (or just click play below).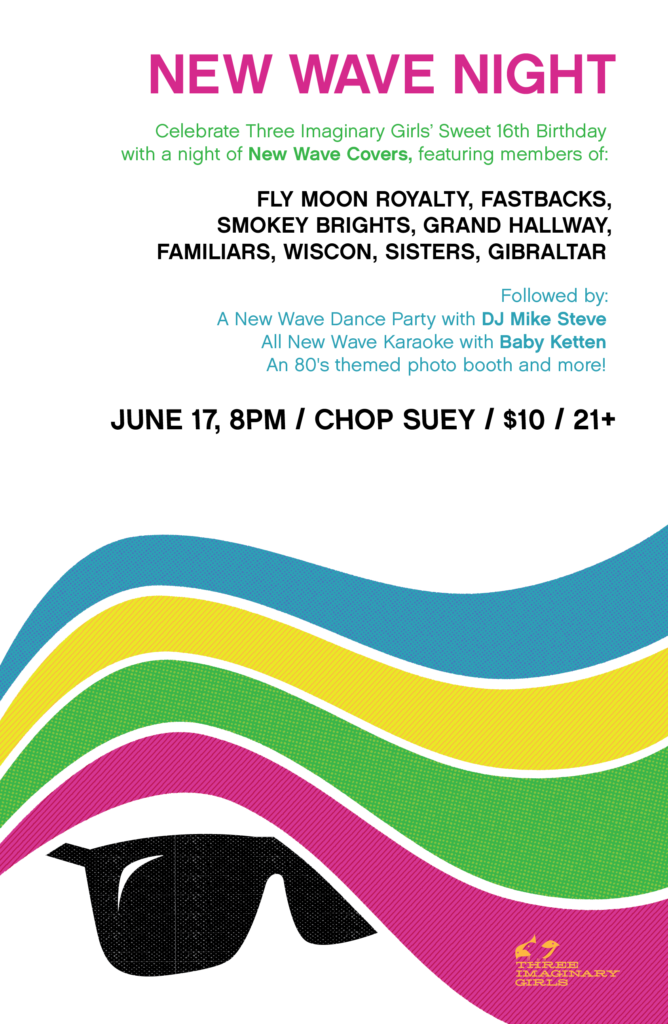 Save
Save
Save
Save
Save
Save