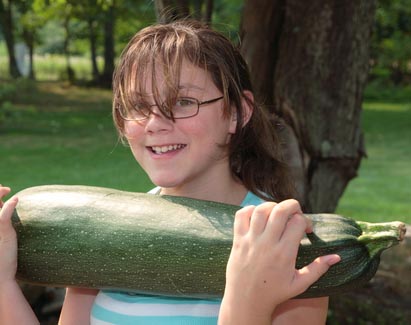 Today is National Zucchini Day, which should not be confused with National Zucchini Bread Day (that's April 25, mark your calendars). National Zucchini Day was originally called "Sneak Some Zucchini onto your Neighbor's Porch Night" and was established in Pennsylvania by Tom Roy to encourage sharing of excess zucchini due to overzealous planting. There are many ways to celebrate this holiday:
Carefully place a dozen or more zucchini in a large, sturdy black plastic trash bag, then add a couple layers of unwanted clothing. Drive to nearest Goodwill or Salvation Army, hand over bag to nearest volunteer. Politely refuse any offered receipt. Leave quickly.
Look for out-of-the-way places which have signs posted, "Clean Fill Wanted."
Under light of full moon, either stark naked or wearing full army camouflage, carrying a machete or any garden implement, run amuck in your zucchini patch, cutting and slashing. Be sure to thank Mother Nature for her bounty before and after this cathartic experience.
Buy a large roll of freezer paper–the kind that sub shops use. Then proceed to wrap each zucchini that has managed to grow to a foot or more in length. Next time your child has a fundraiser, send him or her out supplied with these phony subs. Tell child to drop them off with neighbors or relatives and leave quickly. It's advisable that a responsible adult hover nearby in a get-away car.
Gather all available plastic containers and freezer bags. Drink a vat of your favorite caffeinated beverage, in preparation for staying up 'round the clock to purée large quantities of zucchini. This can then be packaged neatly and artistically labeled: "For Zucchini Nut Bread Recipe." These packages can be freely given, along with copies of recipe, to anyone on your Christmas list.
How will you celebrate this special day?