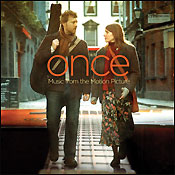 Did you see Once a few months ago when it was shown at SIFF or in the theaters? I am so glad that embracey not only convinced me to go but accompanied me to the showing that features a question and answer with the filmmaker and with the film's stars Glen Hansard (of The Frames) and Marketa Irglova. The lead couple ended the show with a performance of songs from the movie. It was a stellar night.
Tonight, the two stars will be performing live renditions of songs from the movie's heartwarming soundtrack under the guise of The Swell Season with Martha Wainwright at the Moore Theatre. Here's some info on the Swell Season:
With The Swell Season, Glen has teamed up with classically trained Czech vocalist and pianist, Marketa Irglova to produce an album of affecting songs and compositions. The record side steps many of the conventional strategies offered on Frames records and is most akin to Glen's solo shows or their 2001 release, for the birds. From straight songs to piano instrumentals The Swell Season affords an insight into a whole other side of Glen/The Frames, as well as offering a perfect introduction to this very talented newcomer in Marketa.

Fresh off another year of constant touring and gigging with The Frames, Glen retired to the Czech Republic for some down time last fall. It's here that he spends much of his time writing songs. A winter in Eastern Europe can be unkind, yet it also loans itself to an indoor creative energy that can often stir the muses. This batch of songs didn't seem to loan themselves to the anthemic nature of The Frames, so Glen decided to enter a studio with some time collaborator, Marketa and the two were left with the chilling and intimate, The Swell Season.

The record takes its name from author Josef Skvorecky's book of the same name. Set in Nazi occupied Czechoslovakia the story centers on one mans love of music and pursuit of unattainable women as a country comes unglued. Like the book The Swell Season deals with the pains and hopes of those struggling to make sense of their lives. A place where characters fade into the picture only to be eclipsed by their own darkness, pursuing the unattainable, wishing for that one love, that one great chance that will give meaning to their lives. Whether it comes or not is all.
And if you just need some convincing to add Once to your Netflix cue… watch this trailer for the movie.