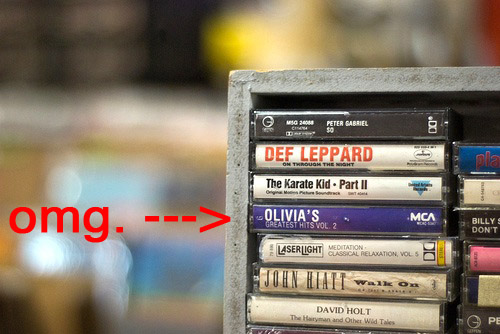 It goes without saying that at any given point, especially in Seattle, we are absolutely inundated with new music to listen to. So much so that, in a veritable sea of sound, little gems can slip by without us even noticing, rolling right out of our sight and falling down the drain without as much as a telltale metallic 'tink' on the drainpipe to get our attention. The perpetual optimist among us would like to think that albums of worthiness will always float to the top of the pile on their own merit and deservedness alone, but that simply isn't always the case.
With that said — here's a few gems we've been shining up in the imaginary office these days, in hopes that they've already caught your eye:
Lovesick Empire / The Grind EP
Holy heaven in a download, Batman. To say that this brand-stinkin'-new release from local notables Alicia Amiri and Jason Lajeunesse is in heavy rotation would just about be the understatement of the year — about thirty seconds in on our first listen, something told us we were into something good. Lovesick Empire manages to give a nod to their roots while maintaining a sound that's completely their own — we can hear hat-tips to true grunge and "He War"-esque Cat Power, layered with a good helping of black eyeliner and a missle-lock stare. You can almost see the movie scene playing out in a deafeningly loud bar during "Something in my Blood," hear the radio hit two tracks later, and realize you've got the perfect addition to your next mix tape with "Can't Get Right." Big, filthy guitars will keep the post-punks happy; and just enough forlorn-ness in the lyrics will draw the indie rockers in.
If you weren't lucky enough to get one of the free burned copies (!) that LE gave away at last weekend's Showbox show where they opened the bill for the Cave Singers, you can mosey on over to the Lovesick Empire Facebook page to download the tracks. Honestly, we simply Can. Not. Wait. for everyone to get addicted to this band, who've somehow managed to roll an (unintentional?) homage to Seattle into a mere eight tracks of sheer goodness.
Clem Snide / Suburban Field Recordings, Vol. III
In some e-discussions that had absolutely nothing to do with new music and upcoming albums, our friend Eef Barzelay dropped the dime that he'll be putting forth a new edition of his Suburban Field Recordings series in the upcoming weeks(ish), with the finishing touches being put on it as we spoke typed. From the three tracks we've sampled — including, among other strokes of brilliance, a stripped-away cover of Pale Blue Eyes by the Velvet Underground — it's safe to say that we are on absolute pins and needles waiting for the full version of this internet-only release. It's Clem Snide coming to you as ones and zeros in the finest of ways, with a wonderfully deconstructed, stripped-away pinch-of-indie-roots selection of songs. We'll make sure to bring on the full details at the absolute first moment that we have them, and you can keep an eye on the Clem Snide website in the interim.
PS: did you catch the post about how you can get Eef to record any solo / Clem Snide song you want — three of them, in fact — for a mere twenty dollars? We took the opportunity to indulge with custom versions of "Denver," "I Got High," and "I Love the Unknown" for our hard-earned scratch, and we were so impressed that we're fighting the urge to send along a hundo for a full-length custom LP. Seriously.
S / I'm Not As Good At It As You
This one's not at the bottom of the list for any good reason, other than the fact that this EP came out back in April and it's taken us six months to get around to gushing about it. In Seattle-time, I'm Not As Good At It As You is probably old news, but so far as the rest of the free world is concerned, it's still a new release — funny how we function in musical dog-years like that around here.
Jenn Ghetto, who is likely known to most for her presence in Carrisa's Wierd, shows off her solo work on this EP under the name S in a devistatingly beautiful capacity. This painfully aware, alone-in-a-room recording gives us a giant slice of everything we heart about Jenn with a side of gorgeous, jangly electric guitar and sparse, well-placed accompaniment that's absolutely mesmerizing from start to finish. Figuring out whether the lyrics are autobiographical or observational really doesn't matter here, because the sheer grasp of language is enough to slice you lengthwise — whether Jenn is singing about her own experiences or not.
Never in the span of fourteen minutes have we heard a more compelling composition of raw-heartedness, almost anthematic in it's quest to find the truth in the issues at hand. These four songs build and burst our hearts, especially so on the story told during "Not a Problem," which has in fact become a problem — if having one three-minute song on repeat to relieve the sheer power of it over and over is a problem, that is. Start churning up your own issues over at the Own Records bandcamp site, where you can preview and purchase the whole kaboodle for less than ten bucks.
Happy listening, everybody!