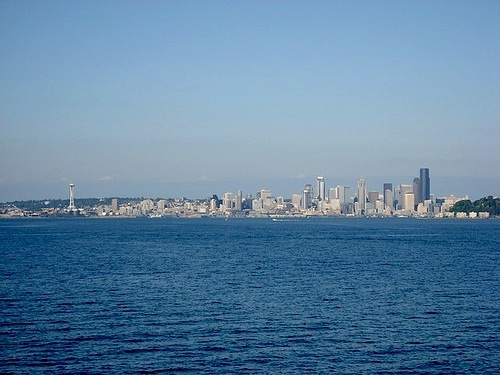 It's definitely a time — in the imaginary world at least — when one of those 'holy crap, there's so much good music right now!' cycles is in full swing. So, between all the sounds and all the sunshine, we thought we'd take a moment to fill you in on some of our new all-time favorites before we get caught in the tidalwave of awesome and it all becomes a blur.
Ready? Steady, go:
The Head and The Heart – While this heavy rotation list is by all means in no particular order, this local band's new self-titled, self-released album is easily a favorite among new favorites. A perfect blend of total hope and full-force emotional cutting, The Head and The Heart's sweet, poignant lyrics pour out of the speakers in a sea of crafty, unexpected time signature changes with harmonies that just about stop the proverbial car. Singing about the everyday things we all ache over, they give snapshots of sadness and paint landscapes of far-off daydreams, in an indie.alt.americana /slash/ Avett Brothers multi-genre encompassing appeal, all of which translates tenfold in their live performance.
Favorite tracks: "Ghosts," "Lost in my Mind," and "Sounds Like Hallelujah."
If you weren't fortunate enough to catch THaTH's record release at Conor Byrne last week (or their mindbendingly sweet in-store at Sonic Boom), fret not — both the Doe Bay Festival and the Capitol Hill Block Party will be hosting their sets this summer for you to take in all their six-piece glory firsthand. In the meantime, we'll be crushing on these sweet songs and waiting to see where they go with their next release.
Pearly Gate Music – Another self-titled album, another new favorite, another sweet slice of forlorn love-lost mixed with sunny summer days: local all-stars Pearly Gate Music live up to their roots with their first official release, just out on Barsuk Records. With heavy expectations from the indie camp brushed aside, PGM delivers a homerun series of songs that take you down roads of heartbreak and nostalgia in a 'hear the space' kind of way, with a huge-room sound that's akin to early My Morning Jacket releases. They're sad enough to nurse you through your next breakup, yet carry enough upbeat strummy-guitar tracks to accompany you through the handful of perfect Pacific Northwest fair-weather days, all with layer after layer of ethereal vocals.
Must-listens: "Big Escape," "I Woke Up," "Gossamer Hair," and "Bad Nostalgia."
You can catch Pearly Gate Music opening up for Nathaniel Rateliff at the Triple Door in August, a month off of some overseas dates spreading their brand of Seattle sound in the UK, France, and Germany.
Damien Jurado – While there's already been much imaginary adjective put forth about last month's release, we couldn't let a best-of new local awesomes post go by without shouting more praises for Saint Bartlett. Easily Jurado's most compelling, adventurous, and imaginative album to date, Saint Bartlett is a start-to-finish the-best-takes-are-the-first kind of humble effort. His flawless storytelling sets up against a throwback sound on most tracks, either by way of a fifties beat, a sweet string arrangment, or a choir of backup harmonies to punctuate the peaks. And all of this couples with some gorgeously evolved 'standard' Jurado-sounding songs that showcase the best of what we've come to love him for thus far, multi-faceted yet simple, equal parts vulnerable and strong. It's part drive-in movie car speakers, part Neil Young, all heartfelt, and all brilliant.
Can't live without: Every single track, especially "Arkansas" and "Beacon Hill."
Fresh off of a tour in support of the new release, Damien Jurado will be back in the Northwest post-Independence Day with a one-off performance or two, and is prepping his playlist as our featured imaginary DJ at Solo next month as part of the Vera Project's annual Drink for the Kids Benefit — all before he heads across the pond for some exhaustive dates in Europe and the UK through the end of September.
Stay tuned for part two, where our heroines will fill you in on even more music to top your latest playlist… now, go get some sun!