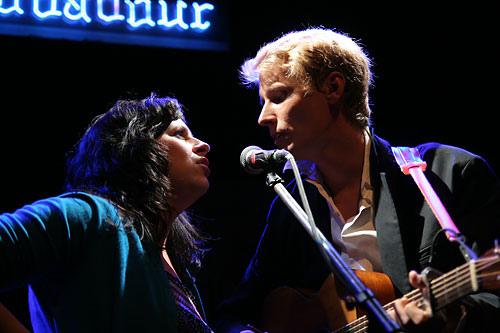 I've had the fortune of crossing paths with Tom Brosseau many times in the five years since we first met, and it's always been nothing short of total perfection. An intimate show at an all-ages venue back east, a night at the Living Room in New York City, sharing the stage with Ethan Rose and Shelley Short at the Tractor — the list goes on and on. Both coasts and many stellar performances later, we recently landed at the 18th floor of the Hilton Garden in at SXSW together, and I got to experience Tom's work in a whole new light.
He's out on a purposeful small-room tour this go-round, bringing magic to our ears as part of a duo with the incredibly talented Angela Correa.  Sweet, deconstructed original numbers carry their voices in a perfect blend of melody, with little more than Tom's acoustic meanderings and a foot tap here and there to keep the time. It's dramatic while remaining completely understated, powerful and intimate, and absolutely not-to-be-missed.
Check out their MySpace for a proper sampling of this modern take on some standard sounds, and then grab your ID and come down to Hattie's tonight. With all this and Shelley Short opening up the night, you won't be disappointed. Promise.
We'll see you at the show!