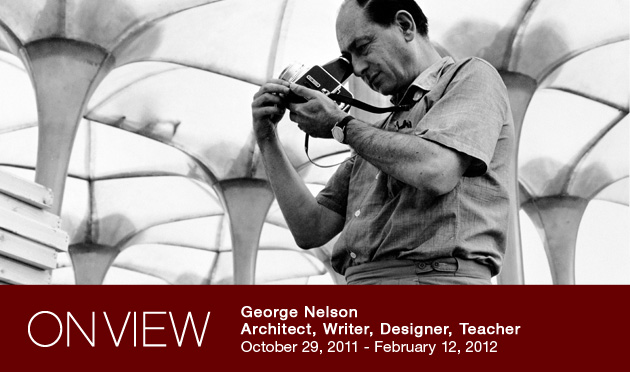 Dig that Mad Men vibe? Of course you do. And even though coordinated parties on the theme are so 2011, don't let it stop you from popping over to Bellevue (yes, Bellevue) to catch the exhibit that's currently on display there. Here's a bit more on it from the Bellevue Arts Museum site:
Reaching the height of his career in the mid-20th century, George Nelson (1908 – 1986) undoubtedly numbers among the founding figures of American design. Trained as an architect, Nelson made his mark not only as a designer but as an acclaimed writer, lecturer, exhibition designer and passionate photographer. His deliberations on questions of domestic living and the modern home and office set benchmarks in the field. As design director for Herman Miller, Nelson invented numerous classics of modern furniture and interior design. Featuring more than 220 objects, including furniture, lamps, clocks, graphic works, architectural models, films, prints and a full-scale partial reconstruction of the 1959 American National Exhibition in Moscow, this retrospective renders a comprehensive portrait of Nelson and his many activities, acknowledging his prominent position in the world of design over nearly four decades.
You know his work — take one look on the internet at even just the furniture designs he's responsible for (yep, that guy) and you'll recognize everything your Ikea furniture is desperately trying to be. And just in time to break the cabin fever, BAM is throwing a Mad Men & Martinis party tonight, which means you can see the exhibit, catch some live music, and hear some DJ sets from KEXP's own Greg Vandy — all for just ten hot dollars. Get there!
{$10 / 21+ / 8p}