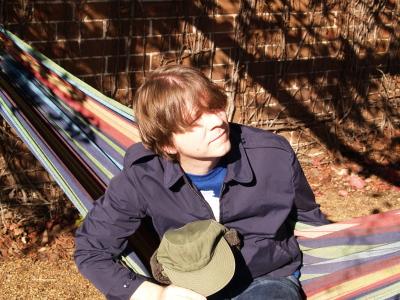 There hasn't been much fuss made, but TONIGHT IS THE DARREN HANLON SHOW at the Sunset!
Some of you might remember Darren as the opener for the Magnetic Fields on their last tour, or know him as a labelmate of the Lucksmiths (on the now defunct Candle Records), or because he's be known to pop up on mix tapes near and wide with his quirky songs, heartfelt songs about the every day (and punk rock roommates). And he's super cute and has a killer accent… and kind of resembles Russell Crowe's younger indie-folk brother. What's not to love?
Yes, if you shake Darren's hand tonight you WILL BE one degree of separation from Stephin Merritt… and you'll hear songs about squash (the sport).
And if that doesn't convince you, go listen to songs like "Happiness Is A Chemical," "Elbows," "Hiccups," or "I Wish That I Was Beautiful For You" on his website (there's also songs on his MySpace ripe for the sampling).
Also on the bill: Jen Wood (headlining) and Blue Light Curtain (opening) — neither of whom have ties to Australia (as far as I know).
See you there?